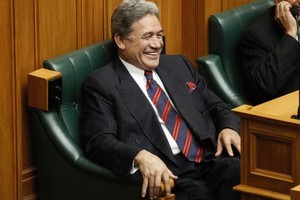 It is surely tempting fate to say it, but a rather different, more mellow and more constructive Winston Peters now seems to inhabit the parliamentary complex.
Sure, there is little hard evidence to back up that claim, which is more impressionistic than anything else. Sceptics would argue it is much too soon to draw conclusions. A brief observation of Peters performing in Parliament would convince most people nothing has changed - as was the case on Thursday when Speaker Lockwood Smith finally lost his patience and ejected the New Zealand First leader.
Peters treats the parliamentary chamber as something akin to Rome's Colosseum. Gladiatorial politics is his forte. He is never going to concede that advantage - and for one good reason.
What happens in the chamber is largely scripted in advance by the two big parties. Minor parties can die on the vine when it comes to getting media attention. Peters' daily tactic is to draw his sword and upset this cosy arrangement, regardless of the resulting disorder.
But the contrast between the Peters who was tossed out of Parliament in 2008 and the one that returned in triumph after last year's election is stark.
The former version was Mr Angry, who viewed everyone outside his circle as conspiring against him.
He was exhausted by the almost constant political chaos around him, the debilitating travel schedule required of the Minister of Foreign Affairs and the personal devastation of the death of his mother.
An awful year culminated in him being hauled before Parliament's privileges committee and pilloried by his peers. New Zealand First, meanwhile, was enveloped in a funding scandal which prompted a Serious Fraud Office investigation which, in turn, prompted Helen Clark to relieve Peters of his treasured Foreign Affairs portfolio.
Peters had previously bounced back magnificently from such lows. This time there was a dull thud. He struck bottom - and stayed there.
Three years later, he is a far more relaxed character. He has regained his sense of humour. He is focused rather than distracted. He might not be quite the crusader of old, but outsiders still clearly believe if anyone can expose what they consider to be a scandal, Peters is their man.
Parliament has sat for only three weeks this year. In that time, Peters has fired off more allegations of dodgy actions or behaviour than Labour managed in the previous three years.
As for the more positive Peters, the most obvious sign was his offer of some of his parliamentary office funding towards the cost of electronic note-taking equipment for deaf Green MP Mojo Mathers.
Peters-haters would have misinterpreted this as classic bandwagon-jumping. The politics does always intrude. Peters may have had a quiet chuckle that his gesture had the incidental plus of making Lockwood Smith, with whom Peters clashes on a daily basis, look even more cold-hearted.
Those who know Peters would realise the gesture was a genuine response to the plight of a fellow MP from a party for which incidentally Peters has little regard.
One change of spot does not a leopard unmake. But another big difference is that Peters is no longer at war with the media.
It was a war waged largely by him. It was symbolised by his holding up of the famous "no" sign at a press conference. It was a war he was told by advisers he could not win. He seems to have taken that on board during his exile from Parliament.
His party's ejection from the institution apparently prompted other soul-searching. But any inclination he might have had to throw in the towel after the 2008 election disaster is said to have been erased by the positive reception he got at New Zealand First's annual convention the next year.
There are other reasons why we may be witnessing a more temperate Peters. Having worked so hard to get back into Parliament via a punishing election-year speaking tour up and down the country, he will not want to blow it for a second time.
John Key's refusal to work with him left Peters and New Zealand First with only one option - going into Opposition. From his statements, Peters realises that making Opposition work for his party requires something more positive than just opposing everything.
Any leeway for him alienating supporters is also narrowed by virtue of a very inexperienced caucus. His MPs are bound to make mistakes. That puts more onus on Peters to stay very disciplined.
Peters also has unfinished business. Whether or not he stands again in 2014 - he will be 69 - he will want to manoeuvre his party into the position of holding the balance of power. That is why he is targeting the Maori Party and seeking to supplant it as the party sitting on the political fulcrum.
It is all about narrowing Key's options after the next election. It is already dawning on National that Key's ban on Peters might have to be reversed, given the difficulty National is likely to have in cobbling together a government with its existing allies.
Peters also poses problems for Labour. There is no question that New Zealand First picked up votes which normally would have gone Labour's way. Peters will also be targeting the 5 to 10 per cent of National's support which can be characterised as "soft" and which is likely to detach as National struggles to cope with second-term pressures. But those are votes Labour also needs to win over to its side.
This makes the current entente cordiale between Labour and New Zealand First unsustainable.
It has suited Labour to curry favour with Peters - for example, allotting him some of its quota of parliamentary questions - while David Shearer gets his feet under the leader's desk.
Labour also believes unity among Opposition parties will make National's job even harder as the governing party. In that regard, it clearly expects to reap the benefits of Peters' hard work.
But the Greens - in a tug-of-war with Labour over a separate segment of voters - have flagged that they are no longer willing to be Labour's "little brother".
Sooner than later, Labour can expect to get the same message from Peters.