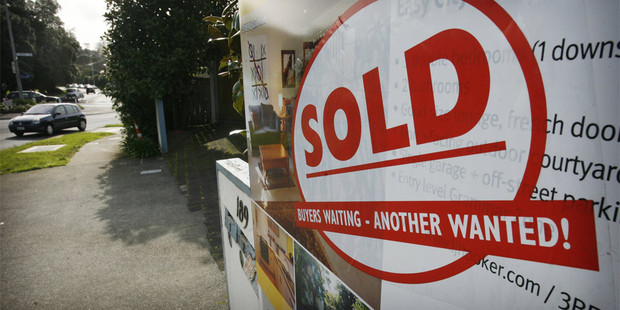 The BNZ-REINZ Residential Market Survey for May has found a sharp increase to record highs in the net percentage of real estate agents who see prices rising.
But the report's author, BNZ Chief Economist Tony Alexander, said the market remained reasonably balanced and consistent with the view expressed by the Reserve Bank this week that there was no boom underway in the property market.
A net 64 per cent of licensed agents said they were seeing prices rising, up from a net 25 per cent in April and a net 7 per cent who saw prices falling in the May survey from a year ago.
"Yet in spite of clear gathering upward pressure on prices, the market still appears reasonably balanced in the sense of an absence of panicked buying. The real estate market in New Zealand is clearly rising, prices are increasing, but again we reiterate - as the Reserve Bank Governor did earlier this week - there is no "boom" underway," Alexander said.
"Just a growing level of interest from first home buyers and investors in particular and an absence of a rush of listings," he said.
The survey showed the market remained balanced, with the agents seeing buyers as only marginally more motivated than sellers. The previous month buyers were seen as only marginally less motivated than sellers.
"In spite of the prices result it is clear that there is no bidding frenzy as such, and this is a result which came through clearly in the real estate responses in our monthly BNZ Confidence Survey. There continues to be rough balance between those agents who perceive buyers to be more motivated to transact and those who perceive sellers to be the most motivated," Alexander said.
"We read this as signalling in conjunction with the result above that prices are rising and will continue to rise, but that there is no boom element to the residential property market."
Shortage of listings
However, he noted only a net 5 per cent of agents saw an increase in requests for appraisals from people wanting to sell their homes.
"We read this as implying that the shortage of listings in some parts of the country is set to continue and that this has obvious price implications in a climate where good numbers of people are still showing up to look at houses," he said.
Prices and demand remained strongest in Auckland and Christchurch, where supply was limited.
"In all locations reported here prices are perceived by agents to be rising - except Whangarei/Northland and on the Kapiti Coast. In Wellington the strong perception remains that sellers are more motivated than buyers."