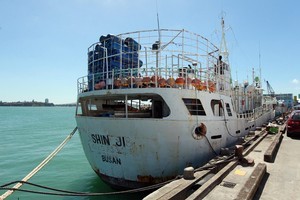 A mystery surrounding thousands of curious, bright-blue plastic shavings found washed up on New Zealand beaches appears to have been solved.
The floating debris, shaped like pieces of swirly pasta, had baffled clean-up crews in the upper North Island for months.
The Herald on Sunday can reveal that the shavings come from Korean ships fishing our waters for blind eel, a delicacy in some parts of Asia.
Mt Maunganui-based Richard Clark is second skipper of the Korean ship Shin Ji, which has been berthed at Auckland's Viaduct since last May.
He said the blue shavings came from 200-litre plastic barrels drilled with hundreds of holes that were used to trap the eels.
"I'm surprised they have made their way into the sea," Clark said. "On my ship, we do our best to make sure they are swept up and disposed of properly after any drilling is done."
The rusting Shin Ji made headlines when its Indonesian crew went on strike claiming they hadn't been paid for two years. In August, Immigration New Zealand gave the men the choice of leaving the country freely or being deported.
About the same time, another 32 Indonesian crew of a second Korean boat, Oyang 75, walked off their craft at Lyttelton, alleging physical abuse from bosses.
Clark said he couldn't be sure the shavings came from the Shin Ji but he vowed to be more careful when it went back to sea. "I'm shocked that so many have ended up on the beaches. I will do everything possible to make sure they don't come from my boat."
Herald on Sunday editor Bryce Johns and Sam Judd, leader of Sustainable Coastlines, are writing to the company to ensure they stop the practice across their fleet.