Fletch and Vaughan pack in a weekend of lakeside action around Rotorua. Fletch recounts the highlights.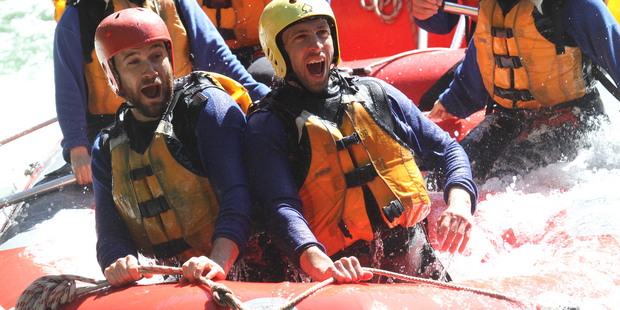 Our home for the weekend is the Amora Lake Resort in Okawa Bay, on Lake Rotoiti, 15 minutes from Rotorua's city centre, and on the lake, boats are towing wakeboarders and skiers. This stunning resort even has its own jetty. If only we had a James Bond spy boat - dreams are free. But there is a giant chess set. If only we knew how to play chess.
We have ducked away from our drive show at The Edge radio station. The Auckland in us can't work our why this spot hasn't been commercialised like the Coromandel. There is room for five more timeshares, a BK and a Bunnings Warehouse. It's no wonder the houses and land around the lake tend to stay within the same families for generations.
Lake Rotoiti - "Sssshhhh about it!" should be on a sign as you drive by.
Five minutes up the road, the Okere Falls Store Beer Festival is on, and it's a sell out. We join the hundreds of locals and holidaymakers cramming tables like a Munich beer hall, but in a Kiwi backyard.
There's a 30-piece oompah band, composting toilets and delicious German heartstopping/clogging cuisine. Imported German beers and a secret-recipe potato salad are all part of the authentic Deutsche festivities that have built the event to "must attend" status amongst locals. In typical lake-life style, we get home later that night by boat.
The next morning it's off to the #1 ranked activity on Trip Advisor for the North Island.
Rotorua Canopy Tours is a three-hour guided eco adventure through untouched native forest. We meet other tourists in the morning in town, gear up with harnesses and helmets and drive to the forest. After a short walk through untouched native forest (including basic tutelage on flora and fauna), we clip on to tree platforms, swing bridges and zip lines fixed high on native trees. It's hard not to feel a bit guilty while hanging high off an ancient rimu tree, but after so many have been made into coffee tables and state houses, it's great to see one that's still a tree.
It takes only a few zip lines until we're releasing our death-grip of the rope and hanging upside down and screaming. It's an incredible tour that returns a decent percentage of the admission price back into restoring and preserving this virgin native forest.
Next on the itinerary is a quick lunch stop at the award-winning Picnic cafe. As we leave the cafe, our hostess Lin tucks a delicious homemade slice in our pocket, like a mum who doesn't want you going home telling anyone you left hungry.
Soon we're at the top of a hill, taking a running dive (recommended entry technique) into in a giant plastic "outdoor gravity orb" (OGO) filled with 40 litres of warm water. We race each other rolling down that hill. It's basically a rubbery, wet and insanely fun hamster wheel.
After our first ride, we meet Andrew and David, the brothers who invented Zorbing, It's a long story (wiki it) but now they run the newer OGO. Soon we're up the hill again - together on the zig-zag course. You can get a GoPro camera to take inside the ride in case you've ever wondered what you'd look like inside a giant washing machine.
After a change of clothes we're at NZ Off Road to race 390cc Sodi karts on New Zealand's longest Kart Sport circuit. The karts reach up to 100km/h on the 150m straight and there are serious hairpin corners.
As a careful 'Nana driver' who learned to drive in a sensible Daihatsu, this is scary. For Vaughan, a Waikato farming bogan and Mario Kart veteran, it is in the blood. He smashes me, doing more laps and doing it faster.
Then we do another tour of native bush, this time in a Monster 4x4 truck, with a 4-wheel steering mechanism. The back wheels also turn - a dream parallel parking feature. In the mud we are taken on near-vertical slopes, named the Widow Maker and the Loggers Long Drop, all the while being driven by Chris, who looks 12, but apparently isn't.
A great feed with a few locally brewed Croucher craft beers from Brew pub ends a day where we've broken sound barriers in plastic balls, zip lines and karts. We run into Lin from Picnic again and she loads up our pockets with more treats for later. How does she do this?
The next morning, the two of us, and our raft instructor, Ben, are the only fluent speakers of English on our River Rats raft, nothing unusual in this tourist mecca. Commands such as "forward", "back paddle" and "hold on", they seem to get, we think.
We're dropping into the Kaituna River with River Rats rafting. It's graded 5, and weaves through native forest, passes a decommissioned hydro-electric dam, and the river mixes with various hot springs along our route. It's magic!
The trip includes the world's highest commercially rafted waterfall, a fact that most of the non-English speaking tourists didn't seem to pick up on until we saw it. We're in the front of the raft for the drop, and it's the best spot. We're first to be submerged as our raft near-vertically goes over the 7m fall. With a huge rush of water and incredible rush of pressure we pop out feeling more alive and awake.