Trek to falls owes much to helpers, writes Cindy McQuade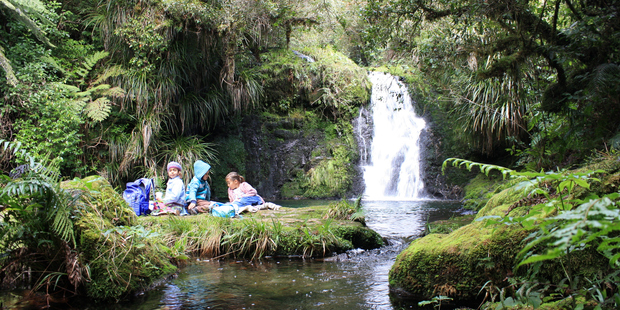 Egg sandwiches, a thermos of Milo and slightly soggy carrot cake. Nothing fancy.
If I had known we would be dining on the slope of a legend, meeting one, and witnessing the work of a group of community legends, maybe I would have packed something slightly more auspicious.
We set off on our bush walk to the Otanewainuku Scenic Reserve, just south of Tauranga, for a bit of fresh air and hopefully to make it to the Whataroa Waterfall.
As soon as we park, gather our crew, and wrap up warm for a cool morning in the bush, an elderly gent with crooked back and a friendly hello approaches.
He is Otanewainuku local, Jim Pendergrast, and most weekends you will find the 86-year-old at the car park guarding visitors' vehicles from vandals. Another local will take over from Jim later, he tells us. Community members have been doing this for about nine years. Many also belong to the Otanewainuku Kiwi Trust which is trying to re-establish the brown kiwi population as well as other native bird life in the reserve.
Otanewainuku is a chiefly mountain, Jim tells us, and the Maori name can mean "Where water separates from the sky" or "The many waters that spring from the domain of Tane - the overseer of the forest".
After our chat with Jim, it is time to meet Tane. Within metres of stepping into his domain, I immediately feel the temperature drop, breathe in the frigid air, and need to set off at a brisk pace to keep warm.
The virgin bush has plenty to keep curious minds ticking over. Time flies by and cool air is soon forgotten in the splendour. The kids are in awe of the massive 500-year-old rimu, and as the track has plenty of tree roots and fallen logs to negotiate - better than any playground climbing equipment - they are happy.
As we reach further into Tane's realm, the familiar feeling of wonder takes over and I marvel at how occasional shafts of sunlight pierce the darkness, transforming ponga fronds to a bright citrus lime colour.
Today, I feel particularly inspired. But that has a lot to do with meeting Jim. What a legend.
I think of all the time he has unselfishly given up to protect the property of people such as myself.
That property is home to the brown kiwi, kokako, tom-tits, robins and many other species which Jim and his fellow Otanewainuku Trust volunteers are working so hard to protect in this area. They have spent thousands of hours trapping and laying bait lines to keep down predators so that our natural heritage has a fighting chance of survival. They're truly legends.
As we near the halfway point of the journey the children listen out in earnest for the sound of water.
They are excited to see a waterfall up close and finally get to eat the carrot cake. At last, they hear it. The white-noise of rapidly gushing water. We quicken up and slide downhill, over tree roots, impatient and excited.
And there she is. On the side of a legendary mountain, a white, wild rush of water, hurtling down into a pure transparent pool.
We congregate on a slab of rock to gape at the torrent and eat lunch while water swirls around us.
The kids have worked up an appetite and gobble everything down, relishing the hot Milo in the chilly bush-clad cove. A humble lunch in the midst of the sublime.
As we sit and drink, I contemplate how lucky we are to sit on the slope of this mythical mountain and to have a community of people who are creating their own legend for the benefit of us all.


Follow the falls
What: There are three Otanewainuku Scenic Reserve Tracks: Whataroa Falls; 2 hours' return: Summit Track; 2 hours' return: Rimu Loop Track; 45 mins' return.
Where: Mountain Rd, off Oropi Rd, Tauranga.
Head to: The Oropi Rd Roundabout and drive approx 19km south.
Cost: Free
For more information about the Trust and the legend of Otanewainuku and Mauao see: kiwitrust.org