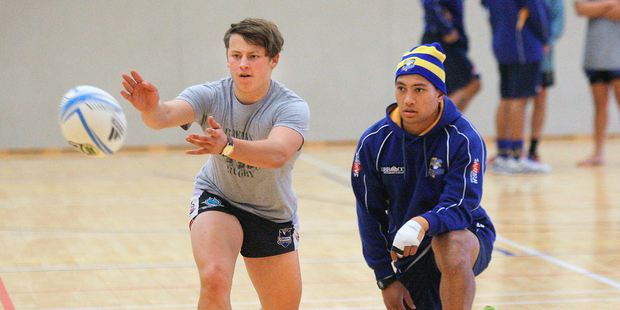 The Steamers squad for 2014 might be full of fresh faces but they have gone back to an old tradition this week to reconnect with their fan base at the extremities of their far flung Bay of Plenty region.
On Tuesday, the players, coaches and support staff travelled two hours to Opotiki College, where they ran skills sessions with the school's First XV and under-14 teams, and then did it all again on Wednesday at Katikati College.
Steamers head coach Kevin Schuler regarded the school visits as crucially important in connecting with the team's grass roots support base.
"When the team assembles and we get busy with trainings and all our other promotional stuff, often you don't get time in the broader region that supports you," Schuler said.
"It is great at a time like this. We can get out and do some mix-and-mingle really and have some fun with the kids and have a bit of a connection.
"They're the ones that we obviously want to perform in front of in the season too, you know. Kids are your greatest supporters.
"It is also important for the players to see what it means to people in the region and that these guys are representing them as their premier sports team."
Katikati College principal Neil Harray was an interested spectator at the skills session.
"I see this as a really important exercise for ourselves and the Bay rugby union," he said. "It shows that they value the support throughout the entire Bay of Plenty. I think it is fantastic they went to Opotiki and make the effort to come out to Katikati the next day. Our rugby students, and a lot of our other students as well, look up to the Steamers and have real ownership and pride in the team. This just solidifies that and inspires our students."
Harray said the rugby programme at Katikati College was definitely building.
"A lot of kids being modern teenagers play more than one sport and, for a rural co-ed like us, we encourage kids to be involved as much as they can. We have lots of great athletes here and we have a good, strong First XV this year that I think will surprise a few next year."