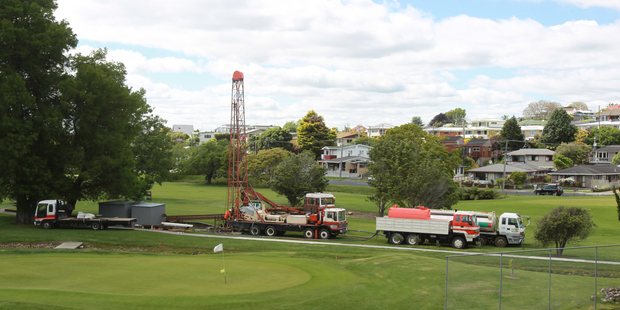 Otumoetai Golf Club is spending nearly $18,000 to fix a problem that threatens the playing surface of its greens.
The club, which celebrates its 50th anniversary next March, is drilling a new freshwater bore after the old one began to fail.
Club president Brian Jones said the old bore had lasted 20 years but needed to be replaced when sand and sludge started getting pumped up with the water.
He said they required lots of water during the summer to maintain the course, particularly the closely mown greens.
The five-day job will remove a potential headache for the club which now enjoyed nearly uninterrupted golf as a result of the council spending $3.4 million to upgrade stormwater systems above and around the course which is a natural stormwater basin.
The course used to be a barometer of heavy rain, with ponding regularly forcing golf to be cancelled - the record being 22 days in a row.
But drainage improvements following the disastrous storm of 2005 had a happy spin-off for the club which so far this year has only closed for four or five days from rain.
Sinking the new bore has not disrupted play. The club responded to the temporary obstacle by moving the 2nd and 11th tees so that golfers could play around it.
In common with most other golf clubs around New Zealand, Otumoetai's 270 membership was declining. Mr Jones said the club was promoting casual golf and its popular nine-hole membership which appealed mainly to older people.
Falling player numbers around the country was a major focus for the sport's governing body New Zealand Golf.
Mr Jones said people were reluctant to join a club because of time commitments, could not afford it, or were restricted by shift and weekend work.
Otumoetai Golf Club's New Irrigation Water Bore
*Depth of bore: 70m.
*Summer water demand: 13,500 litres per hour.
*Nighttime extraction: 33,000 litres per night.
*Comparison with average household: 150-200 litres per day.