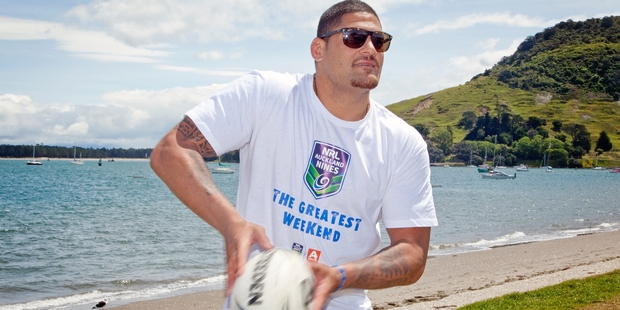 Big Willie Mason has come a long way since being voted one of the most disliked players in the NRL year after year.
Gone is the afro, the public urination and signing other player's names during autograph sessions. Here is a man with a shaved head, shaved down physique and a wide range of considered opinions on all matters rugby league.
This is what he had to say to the Bay of Plenty Times at Pilot Bay yesterday.
On Sonny Bill Williams:
"I don't know what the New Zealand media are like, but there's a bit of hate on him, isn't there? He does what he does, man - he's a good guy.
"If half the people could do what he does they'd do it, you know what I mean? They're just jealous pretty much - he can box, play union, play league and at the top level of everything. If you want to hate on the kid, hate on him."
On the lure of the Auckland Nines:
"I'm 100 per cent. Everybody is. If you think about it, you play 26 rounds of the NRL, plus finals. It's the hardest comp in the world, and you get, what, a million dollars or something?
"With nines, you get $2.6 million in prize money for two days' work ... for like nine minutes ... I mean it's gonna be ... the teams like Melbourne aren't gonna win.
"It's teams like the Warriors with Shaun Johnson, they're gonna carve up man.
I think this will break the pre-season up - normally you're getting towelled up around about February. The boys can't wait for the nines.
"I think New Zealand is not really sold on it yet because they think the club will just bring their reserve grade players over, but it's not like that - everyone's playing.
On Dean Lonergan getting the new tournament off the ground:
"When he told me 18 months ago he was going to do it I said 'no way'. The NRL are tight, and stuck in their own ways with their red tape and that.
"Then he said he did it and I was like 'wow'. He had all the coaches over and all the CEOs so I thought they all must have wanted it. I think it has a lot to do with the money - all teams are money orientated.
On the danger of the Kiwis at the Rugby League World Cup:
"All the Anzac tests we played from 2002-2008, we never lost one. We lost the world cup and we lost the Four Nations because when the Kiwis have a chance to build together and get that camaraderie going, it's hard..
"Playing for Australia is a lot of pressure. It's like playing for the All Blacks - you're expected to win, aren't ya?
"Now I think the game has evened out so much because of the Kiwis' dominance in the NRL with guys like Sonny Bill Williams and (Jared) Waerea-Hargreaves. Look at that forward pack, it's ridiculous."
On rugby league not being played in many New Zealand schools:
"I think it's disappointing - it's bad because obviously rugby union has such a strong hold over New Zealand. Some schools aren't even allowed to play league. That's why you see a whole bunch of 17-year-old kids coming out of school and league scouts are grabbing them. Like Roger Tuivasa-Sheck, he's supposed to be the next big thing in union, but he's not going to wait in the wings for the next four or five years. Went straight to the Roosters, straight into first grade, won a grand final, [and is] probably on about $300,000-$400,000.
"It's too much, so many people want to play for the All Blacks but I think they are getting the idea now that rugby league is coming up - it's a billion-dollar game now - it's no joke."