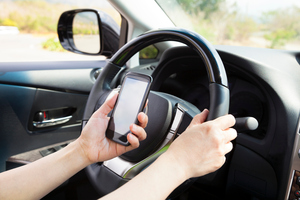 Despite it being illegal for nearly four years, it's not uncommon to see people driving and talking or texting on their cellphone.
Motorists, even truckies, seem to think it's fine as long as they keep one hand on the wheel and their eyes on the road. The problem is your brain is on the conversation you are having with the person you are talking to - a lesson I learned the hard way at age 20.
I was travelling back from Rotorua when I got into a cellphone conversation with my mum. I can't remember who called who but I began chatting away while heading along State Highway 30 to Tauranga.
I asked her a question she didn't really want to answer and the phone went quiet. Forgetting my primary task - driving - I looked at the phone to check if the call had disconnected.
The answer became irrelevant when my car crossed the centre line, and the median strip, and scraped its way down the side of an oncoming vehicle.
I dropped the phone and my mum listened helplessly to the crash. Myself and my passenger were unhurt but the cost of repairs to my car - and the one I had hit - meant I had to sell mine.
You would think I'd have learned my lesson but I have to confess that, 12 years on, when the practice was illegal, I became one of the 380 drivers on Western Bay roads given a ticket for driving around the Mount while discussing my plans for the evening.
I think the penalty for talking on a cellphone, texting or using it in any way, needs to be much higher. The threat of a $500 fine would be enough for me to keep it firmly secured in my handbag.
Admitting to my crimes was frowned upon by some in the newsroom but a quick survey found one was an accomplished smartphone texter and driver and the other two regularly spoke on their phones while driving. They just hadn't been caught yet.
Obviously, the fact it's illegal and the threat of a fine and demerit points is not stopping motorists driving and dialling, but there will be a price that does. If only the same fine could then be applied to those who use them at the dinner table.