Straight-shooting Bay builders Dyls and Dylz are fan favourites for their renegade attitude to the judges on The Block NZ. Juliet Rowan meets "Big Dyls" Dylan Cossey and "Dylz Junior" Dylan Guitink during a break from the sleep deprivation of reality TV renovation.
Dyls AND Dylz are loving being home in the Bay.
"We love the Bay, just the sunshine, the people ... ," says Big Dyls.
"The quiet life," says Dylz Junior.
"The quiet life, yeah," Big Dyls says.
For Dyls, 27, it's a brief return to real life with his partner, Jenni Dennis, a physiotherapist he followed back to New Zealand after seven years playing rugby in Britain.
"She's my best mate," he says. "It was just real nice to hang out with her at the weekend. Even folding washing with her was a breeze."
The two Dylans, who are competing against three other teams on The Block NZ: Girls vs Boys, are also enjoying a short reunion with their pooches.
Dylan "Dyls" Cossey has Hurley, a purebred Hungarian viszla, and Dylan "Dylz" Guitink has Joey, a French bulldog/schnauzer cross.
"I pretty much missed them the most," says Dylz, "especially my boy, as I live on my own with him."
Dylz, 25, says just like him and Dyls, the dogs are best mates and were overjoyed to see each after weeks of separation while the Dylans have been in Auckland filming. "They just got on like a house on fire again, back brawling in the backyard."
The dogs are scampering around a building site where the boys are working during their break from The Block and cause a ruckus when they spot another dog next door. "Oi, get here," shouts Dylz at Joey. "Look at his heckles, bro. What a dork."
Dyls laughs and rounds the pair up, ordering them into his truck. The dogs make a funny sight, sitting together in the front seat, partners in crime.
Their relationship mirrors the one between their owners, who have been friends five years and joke about their "bromance" on The Block.
"When we first met, in the first month, it was like f***, this fulla is my exact doppelganger," says Dyls. "My mum was over in the weekend and she was like, 'You boys are just crack-up. You do exactly the same thing'. It's weird too. Our mums live in the same street. My mum lives in Whanganui and she lives in Tasman Views, and his mum and dad live in Tasman Drive ... "
"In Tokoroa," says Dylz. "And even our mums are quite similar."
The two are prone to finishing each other's sentences and say unlike the other teams on The Block, they have had no arguments, not even a bicker, and usually finish their nights with a couple of beers and their favourite song, Dig by Incubus, telling each other, "Bro, I love you man."
Both boys sport large tattoos, Dyls being proudly Ngai Tahu and inked with the name of his iwi and Aotearoa.
He especially wears his heart on his sleeve, and Dylz says he is happy to act as a "fire extinguisher" when his mate loses his cool on the show.
As well as playing openside flanker for three British clubs during his professional rugby career, Dyls has been a builder 12 years and is unapologetic about his fits of rage, saying he has high standards.
"If it's not right, it's wrong. I'm OCD. Attention to detail. At the end of the day, this is me. I'd probably find myself get shitty maybe once a month in my normal world but when you're on 15 minutes sleep a week and not eating, losing kgs by the day, it becomes a storm in a teacup, everything."
When Dyls and Dylz landed a place on The Block, critics said they had an unfair advantage being builders.
That was the point where it was like, 'Just try and get an hour's sleep a week

SHARE THIS QUOTE:
In real life, Dylz, formerly a personal trainer, is Dyls' apprentice and they work for Bay building company D&B Construction.
But the Dylans say competing on The Block is nothing like building in the real world and, in fact, "a million times harder".
"It's like building on steroids," says Dyls. "Everything's just so full-on. I counted all the questions I answered one day and I answered 230 questions. And they were all very important questions. It was like, 'Right, what light switches do you want right through the house? What taps do you want? What bath is going in? What insulation are we using? What Gib's going where?' ... They have to be informed decisions because once you get to the end, these things have to be cohesive throughout the whole house."
But rather than being a building contest, he says, The Block is about interior design. "If we were judged on framing and Gib and plaster, mate, we would've cleaned up every time."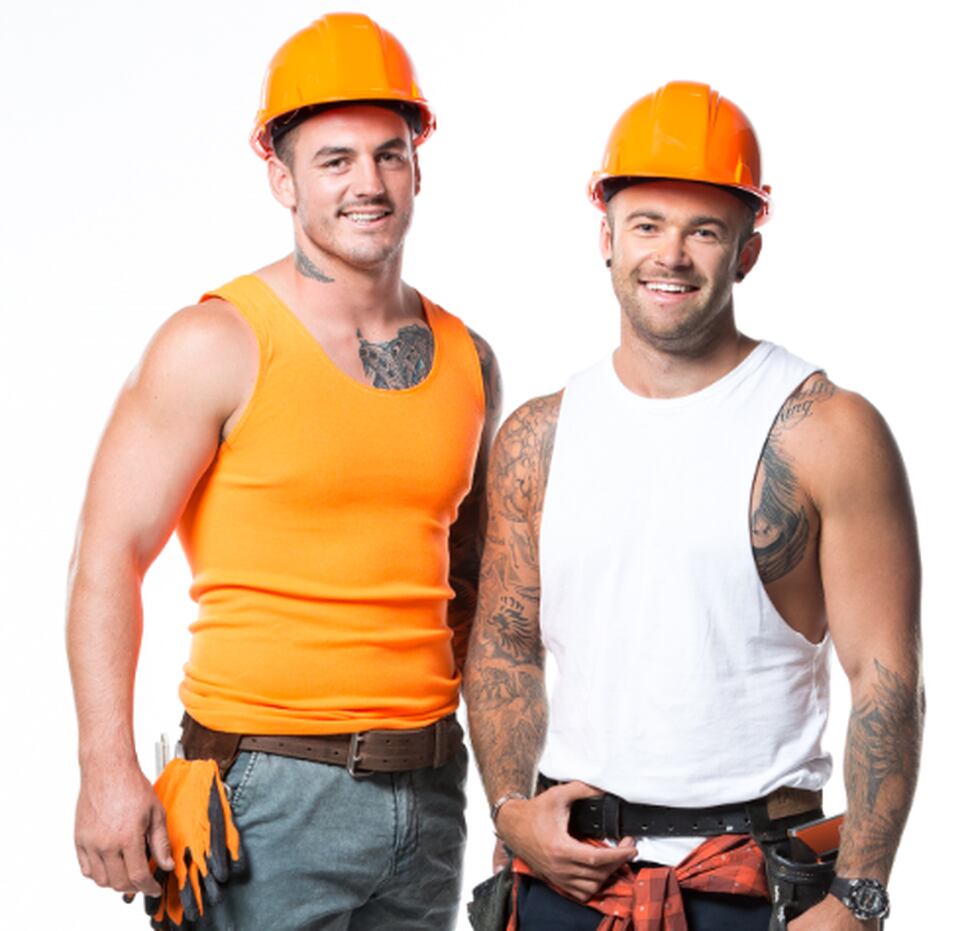 Him and Dylz began "hopeless" in their knowledge of soft furnishings, but say they have learned lots about styling from the other teams, and despite being on the end of plenty of disparaging comments from the judges, they profess to caring nothing for their opinions, Dyls at one point firing a missive on the show that, "The judges need to be shot."
Their renegade attitude has won them fans in the Bay, with people yelling out their names on the streets of the Mount this week.
"And they pull the shucker because we're both surfers," says Dyls, waving his hand in the gesture. "We haven't had one negative comment. People have just been ... "
"'We love you guys'," says Dylz.
"'Yous are so real'," says Dyls. "'We love the emotion.' People are like, 'Big Dyls, we love how you chuck your toys out of the cot'."
A particular design choice slated by the judges has been their use of schist, but Dyls says they "wouldn't change it for the world" and the pair feel they are well on their way to achieving their goal of an inner-city escape.
If we were judged on framing and Gib and plaster, mate, we would've cleaned up every time

SHARE THIS QUOTE:
"[Bay fans tell us] 'Your fullas' house is wicked, eh. John Key and Kim Kardashian are gonna buy it. That's how dope it is.' The local people are right behind us which is awesome," says Dyls.
They both agree the hardest part of being on The Block is the lack of sleep and at worst, they say, they average 15 minutes sleep a week with barely time to eat, drink or go to the toilet. Dyls has dropped from 106kg to 87kg and ended up in A&E after getting chest pain and thinking he was having a heart attack.
"That was the point where it was like, 'Just try and get an hour's sleep a week'."
He needed a second visit to hospital after grinding a bolt without safety goggles and getting a shard of steel in his eye. He says the decision not to wear goggles, despite having a pair on his head, came at the end of another intense day with his thought processes cloudy.
A bit of a prankster, he admits to concocting a fake hook-up between fellow competitors Sam and Emma, saying the plan was for everyone to wake up in the wrong beds to create some drama for viewers. But in the end, all the competitors apart from Sam and Emma slept through their alarms and failed to play their part, leaving Sam and Emma to take the heat.
Dyls and Dylz say being on The Block is a once-in-a-lifetime experience and they are planning new tattoos to remember their time as Team Orange. "I was never a fan of the colour orange before, but now I love it," Dyls says with a chuckle.
He and Dylz are nervous about the auction of their house now the renovation is nearing an end, fearing the property market might crash. "But at the end of the day," Dyls says, "me and Dyl never signed up for money. It wasn't about money for us. It was about two bros, good bros, going in and showcasing what we could do and be goofballs, you know, be ourselves."