More than $10 million has been collected from Tauranga's toll roads, despite thousands of unpaid trips and tolls written off due to obscured licence plates.
New Zealand Transport Agency released statistics to the Bay of Plenty Times, revealing that between August last year and May this year the Tauranga Eastern Link (TEL) had collected $5.455 million while Takitimu Drive toll road had collected $5.118 million.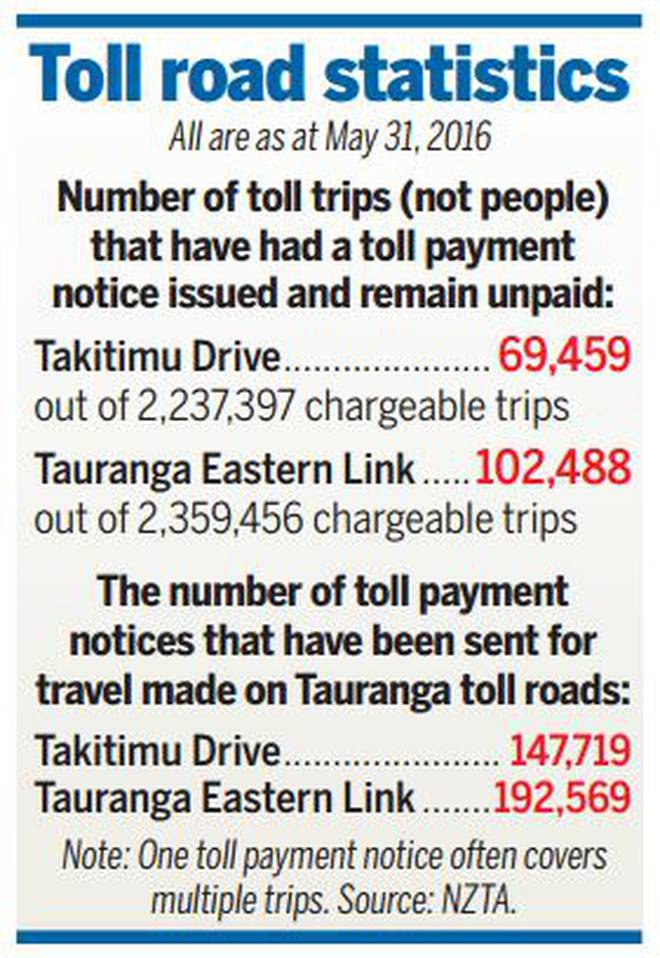 At that rate it would take about 80 years to cover the $455 million cost of the TEL.
Out of more than 4.6 million chargeable trips on both toll roads 171,947 toll trips had a toll payment notice issued but remained unpaid as at May this year.
NZTA's national delivery manager Robyn Elston said toll payment notices were issued when a driver did not pay their toll within five working days. The notice had an additional fee of $4.90 and the recipient had 28 days to pay.
NZTA had recently changed the process of dealing with unpaid tolls.
"We used to issue a toll payment notice, then issue an infringement, then refer them to the debt collector," Ms Elston said.
For the first eight months of Tauranga's toll roads being opened, no infringement notices were issued, to allow people to get used to the roads.
"Now we issue a toll payment notice, then issue a reminder, then refer them to the debt collector. Only then, if the debt collectors can't collect the toll, do we send an infringement notice, which has a $40 charge."
She said when people were reminded about their debt they were more likely to pay it.
At the end of April this year, a total of 1,692 individuals had been referred to a debt collection agency, before the process changed in May.
"Our operating team has said the Tauranga response to tolling has been really positive, with really high compliance."
The overall percentage of unpaid toll trips on Tauranga toll roads was between three and four per cent.
"It took eight years for the Northern Gateway Toll Road to reach that level of compliance," Ms Elston said.
More than 1,600 trips out of the 4.5 million had to be written off as "unassignable" due to licence plates being altered or obscured.
Legislation stopped NZTA from using information from the toll cameras for anything other than collecting tolls, which meant they could not pass pictures onto police to chase up potential toll evaders.
"We find some plates obscured, due to dust, mud, missing a back licence plate or maybe the light is striking the camera wrong way," Ms Elston said.
She said they had not noticed particular evidence of deliberate licence plate obscuring.

Regular toll users weigh in
Ben Shaw, chief marketing officer at Comvita, drives the TEL from Mount Maunganui to Paengaroa twice a day, seven days a week.
"It's a 20 minute door to door commute from the Mount to Comvita. It's a consistent and easy drive, 100 per cent worth the toll price. There should be more high quality, safe roads like it in New Zealand.
"I've used the free route and it's definitely a lot slower and pretty inconsistent, with tractors and slow trucks. The expressway is 10 to 15 minutes quicker so it's a no-brainer for me."
Mr Shaw said compared to driving in Auckland, where he lived before moving to the Bay in August last year, the TEL is light years apart.
"Auckland needs to embrace similar high-quality roads and tolling is a way to pay for it."
Ohauiti resident Hamish Roy uses the Takitimu Drive toll road in his commute to Te Awamutu.
After moving to Tauranga to help his parents, he makes the drive every week day for work.
"Takitimu Drive saves me 10 minutes in the morning and about 30 minutes in the afternoon as I get back right on rush hour," he says.
It costs him and his travel buddy $18 a week on tolls, compared with using an extra $50 on gas when using the free route.
Paengaroa mum Bekah Maree says the TEL gets plenty of money from her household as she and her partner both use it twice a day.
Her partner uses it every week day to get to work in Welcome Bay, while she uses it to get to Papamoa or Bayfair to do shopping, swimming lessons for their son, etc.
She says they spend about $40 a week on the toll road, though sometimes less if she uses the free route through Te Puke.
"For me it's not worth the price. I've started trying to leave earlier and go the free way but for my partner it's worth it as there's too much traffic and trucks on the free route.
"Hopefully one day it will just be a regular motorway," she says.