They call themselves the upper-class homeless. Some have jobs. Some have children. Others have come to Tauranga in search of a better life. But all share one thing in common - they can't find a home. Instead they are living in cars, garages or tents, or sharing with family or friends. So what is being done about it? We investigate a growing social crisis which one Tauranga health boss is calling 'diabolical'.
Homeless families will now have access to emergency housing after a Maori trust gifted two buildings rent-free for a year.
Te Tuinga Whanau Support Services executive director Tommy Wilson said Tauranga Moana Maori Trust had offered the agency the central premises on The Strand to launch stage one of its Whare 4 Whanau Project, called Whare Tauranga - A Place to Call Home, which would accommodate "broken families and put them back together".
A powhiri was held yesterday morning at the former education facilities which would be remodelled to house three families.
Read more: Numbers of homeless in Tauranga unacceptable, says health boss
The properties would provide an "oasis" for families living in cars, caravans, sheds and garages.
"It will take three months to work on each family and apply our social services, super glue to fix up the broken pieces," Mr Wilson said.
Te Tuinga Whanau had 140 homeless people on its books and social workers had been putting them through a "whanau filter" to pick the families who would move in within weeks.
"They must be drug-free and alcohol-free, we are only dealing with families not homeless or street people. The beauty of having these families altogether is that we can apply the wraparound services that they need as it was almost difficult if not impossible to reach them otherwise."
The service was contracted for 250 interventions a year but was "knocking on the doors of 1800", he said.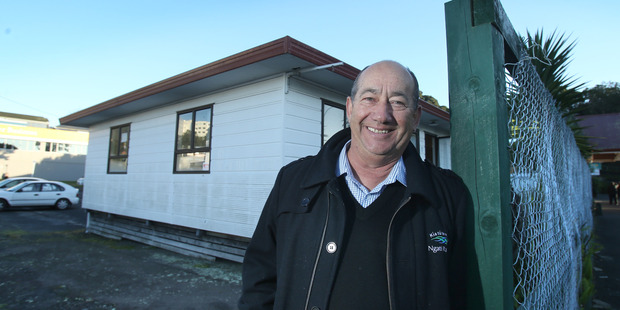 It will take three months to work on each family and apply our social services, super glue to fix up the broken pieces.
"For some of us that have been listening to these sad stories for many years, we feel we are the ones that can write the new story of hope."
Tauranga Moana Maori Trust had provided the "jumper leads" to help fulfil Te Tuinga Whanau's vision for Tauranga to be homeless-free by 2020.
Read more: Scammers target elderly in Tauranga
An estimated $100,000 would be needed to run the shelter for 12 months and Mr Wilson said the agency had opened a Give A Little Page for donations.
Te Tuinga Whanau said it would transition the families into medium- and long-term housing, and had aligned itself with other iwi in Accessible Properties' bid on 1124 Housing New Zealand state homes.
Te Tuinga Whanau chairman Bruce Bryant said communities could solve any problem as long as they were empowered.
"The rubber is on the road now and it is a big day for us," Dr Bryant said.
"I am absolutely convinced there are a lot of people out there that want to help but do not know how to step over the line to do it," he said.
Tauranga Moana Maori Trust Board vice-chairman Mita Ririnui said the trust liked to keep things "pretty low key and get on with the mahi" but felt it was probably time for the board to get more involved despite supporting local initiatives around strengthening families and communities.
"We had these buildings vacant and this was an opportunity to work more closely with community groups and those at the coal face that deal with these types of issues every day. It is not a question of how many people are looking for safe accommodation because there are families out there that have been in serious situations for a long time, sleeping in cars and caravans and overcrowded in houses."
I am absolutely convinced there are a lot of people out there that want to help but do not know how to step over the line to do it.
Mr Rirnui hoped relationships that had been established through the Whare 4 Whanau would lead to other important projects that could be shared with the groups working on the ground.
Ngati Ranginui Iwi chief executive Steph O'Sullivan said the project was a response to an issue the organisation was also seeing daily and was affecting the hearts and minds of residents of Tauranga Moana and "definitely affecting us as iwi". "We see mums and children in cars, we see mums and children with disabilities sleeping in their cars".
"It's fabulous to see collaboration between so many agencies putting something on the table to make something happen."
Tauranga City Council chief executive Gary Poole said it was a positive move and the city's building and consent teams would help.
"We are here to make sure we do our bit to make sure this initiative becomes a reality as quickly as possible."
Next week the council is having a hui about homelessness which "is refreshing and appropriate".
In 2015/16, the Ministry of Social Development has contracted to fund Te Tuinga Whanau Support Services Trust for $295,000, including for family support services and abuse support, records show.