The Gallagher Chiefs battled 26C heat while running up Mauao carrying one of their team-mates and a barrel of water - all to raise money for a Bay boy who needs life-changing surgery.
The 40 players ran the 4WD track up Mauao in teams yesterday to support Austin Manning.
The made it to the top and back in about 45 minutes.
He's overcome many challenges to date relating to his cerebral palsy and yet he always has a huge smile on his face.

SHARE THIS QUOTE:
Austin was named as a super sub for the Chiefs this year and has been supported by the team in fundraising efforts to get him to the United States for surgery which could enable him to walk.
Austin, 7, is one of 7000 people in New Zealand with cerebral palsy.
Read more: 'Mummy, why can't I walk?' Bay boy's desperate fight for surgery
Family pledges to raise funds for life-saving trip
He suffers from periventricular leukomalacia (a brain injury), asymmetric spastic quadriplegia, developmental delay and has problems with his vision.
There are no operations available in New Zealand to relieve the spasticity of his limbs caused by the cerebral palsy - but there is one in the US.
One of Austin's favourite Chiefs, Mitchell Karpik, said Austin was a very special young man and a huge source of inspiration for the team.
"He's overcome many challenges to date relating to his cerebral palsy and yet he always has a huge smile on his face.
"The Gallagher Chiefs are really honoured to be a part of Austin's life and to play a role in fundraising towards life-changing surgery to help fulfil Austin's dream to walk.
"We've had an amazing time this week travelling around Chiefs country and have been training hard, including our run up Mount Maunganui," he said.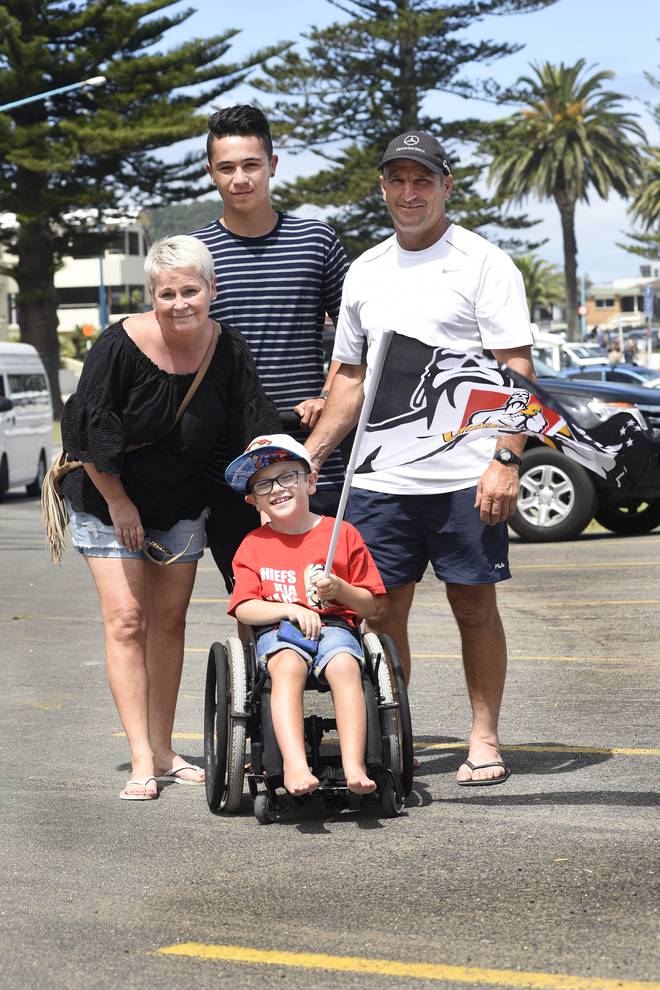 Austin's mum Helen Manning said it was fantastic a team like the Gallagher Chiefs were able to get behind a Tauranga boy like Austin to make his dreams come true.
"It's really surreal - they have been doing this all for us as every dollar does count in getting Austin to the US for his operation."
Mrs Manning said they hoped to have Austin in the US in May next year for his surgery.
The treatment, which reduces muscle stiffness, is offered by Dr Park at St Louis Children's Hospital.
The Chiefs also held a fundraising dinner for Austin last night at ASB Stadium.
Team members wined and dined with about 270 people at the charity dinner for the charismatic little boy.
Mrs Manning wanted to express her gratitude to the Chiefs' coach Dave Rennie and the franchise.
"Dave is the one who instigated it all, it means so much to us," she said.
"The support from him, the team and the public has been overwhelming.
"I can't wait to get Austin to America and on his feet."
To support Austin head to his Givealittle page.