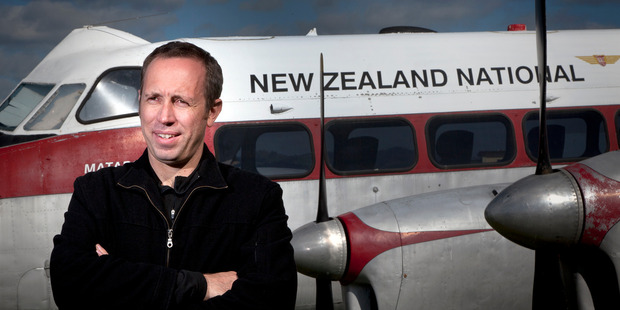 Pilot Jason Johnson has handled two engine failures and lived in Vancouver, Bahrain, Doha and Qatar during his flying career but it all started in Tauranga when he was 15.
Mr Johnson, 40, grew up in Tauranga and started his flying career here 25 years ago.
He now lives in Qatar with his wife and three children aged 10, 6 and 1 and works as a captain for Qatar Airways flying Airbus A330s.
He spoke to the Bay of Plenty Times while back in town on holiday, saying: "I always liked flying. Probably when I jumped off the roof and broke my leg I knew I wanted to be a pilot.
"I actually wanted to fly helicopters. There wasn't many jobs in the helicopter market."
Although his job has taken him around the world, Mr Johnson got his initial pilot's licence in Tauranga and worked as an instructor at the Tauranga Aero Club for four years before becoming a pilot for Air Nelson.
He met a Canadian girl and moved to Vancouver when he was in his early 20s and was captain on small planes which flew to the Rocky Mountains and Alaska. Then he traded in the extreme cold for the Middle Eastern heat in Bahrain where he worked for DHL for four years delivering mail to American airbases during the second Gulf War - and while living there, he met his wife.
The couple were drawn back to New Zealand when Virgin Blue set up its New Zealand arm, Pacific Blue.
Mr Johnson worked as first officer before being promoted to captain and later training other pilots to fly the aircraft. When Jetstar launched in New Zealand, he was recruited as a pilot and regional base manager meaning he was responsible for all the company's pilots in New Zealand.
The family has been living in Qatar for a couple of years but hopes to settle back in Papamoa in about two years' time.
While most pilots have never had to deal with an engine failure, Mr Johnson has had two in his career so far.
"That was on small aircraft. One was in Canada in the Rocky Mountains and one was in Saudi Arabia," he said.
Flying up to the Rocky Mountains and around the Pacific Islands were his favourite routes but it is the people and cultures that have left an impression. Now, he works with 110 nationalities at Qatar Airways.
He said: "What I've learned is you really appreciate your home. You really appreciate where you come from and you really appreciate your freedom and choices that you have compared to many other countries I've been to."