The challenge of trying to build community spirit in a shifting population where school rolls were turning over by nearly one-third every year was brought home to a packed election meeting yesterday.
Greens candidate Ian McLean struck a chord with many at the meeting held at the Welcome Bay Community Centre.
Dr McLean said Maungatapu School's roll turned over by 30 per cent each year without any growth in the number of students. "How can you build a community with a turnover like that," he asked.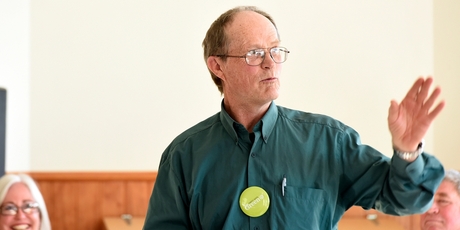 He was one of 10 candidates who answered a series of questions that went to the heart of social issues facing the suburbs centred on Welcome Bay and Ohauiti.
Dr McLean, who is standing for Tauranga, spoke about the "poverty of spirit" in the community. "It is not just about money, but people wanting to be members of their community."
He highlighted how a rental house in his Maungatapu neighbourhood had clocked up its fifth tenant in three years, with kids coming and going from the house that was a lot smaller than the room yesterday's meeting was held in.
Three to four adults were there almost all of the time, with kids at home when they should be at school. "These kids are all over the place."
Money was wasted on education when children from lower income areas were too hungry to learn, he said.
Other candidates' comments on poverty and housing included Annette Sykes (Mana): Start income taxes at $27,000 a year, abolish GST and make sure the poor had access to healthy food.
Tracy Livingston (Democrats for Social Credit): "You can't legislate against stupidity and people do stupid things, like drinking their week's wages." Ignorance and stupidity were different and policies should be found to lift people out of ignorance, she said.
Brendan Horan (NZ Independent Coalition): Introduce a Ministry of Job Creation to look at the skills that will be required in 2020.
Clare Wilson (Labour): Kiwi Build for 100,000 new homes and increasing the minimum wage by $2 an hour by April next year.
Ray Dolman (NZ First): One thousand homes for the disadvantaged and removing GST on basic food items and council rates.
Todd Muller (National): A strong economy was needed to underpin the solution to intractable social issues. "Yes, we want to get to $18.50 an hour [living wage] over time, but we have to earn that as a country."
Deborah Cunliffe (Conservative): Give people a voice by binding referenda. "If the Government is not listening, then there is no point."
Ben Rickard (United Future): Landlords should be made responsible for the quality of their housing stock. Community organisations funding additional houses, with Government support.
The event
What: Meet The Candidates
Where: Welcome Bay Community Centre
Who: Candidates from Tauranga, Bay of Plenty and Waiariki electorates