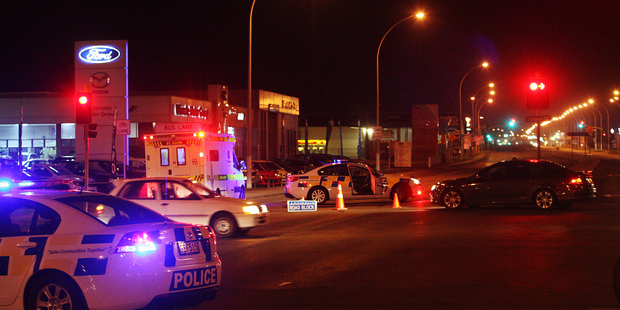 10pm: The fire is thought have involved a derivative of a phosphine gas, a fire northern communications spokesman says.

9.52pm: A fire communications spokesman understands at this point the fire is thought to have started in a large drum on the back of a trailer near Bunnings.
The type of chemical which caused the fire is still unknown.

9.41pm: Tauranga Airport has been locked down due to the smoke produced from a chemical fire in Mount Maunganui tonight.
A fire and security representative confirmed the airport had been locked down but people were now being let out and taken outside the cordoned area.

9.31pm: Fire fighters have extinguished the chemical fire but it has the ability to reignite at any time, a fire service northern communications spokesperson says.
Four fire trucks are still at the scene and cordons and road closures will remain, he said.
An expert is monitoring the scene and will continue to through the night, he said.

9.17pm: Fire service is still working to find out the toxicity of the smoke from a chemical fire in Mount Maunganui tonight.
The chemical fire is near the intersection of Jean Batten Dr and Hewletts Rd, a fire communications spokesman said.
"There are five crews attending and they are still assessing what the chemical is."
The surrounding areas had been evacuated, he said
The fire was reported at 8pm.
A nearby Z petrol station on Hewletts Rd was closed by police at about 8:30, a staff member said.

8.39pm: People are being evacuated from properties near a chemical fire spreading smoke in Mount Maunganui tonight, police say.
Police are asking public to avoid the area.

8.10pm: A chemical fire has broken out near Bunnings in Jean Batten Drive tonight and emergency services have cordoned off the area.
A fire service northern communications spokesperson said fire fighters were still finding out what the chemical was and how toxic the smoke was.
He said fire fighters were looking at evacuating nearby houses.
A reporter at the scene said traffic had been cordoned out of the area at the intersection of Maunganui Rd and Hewletts Rd, as well as the intersection of Totara St and Hewletts Rd.