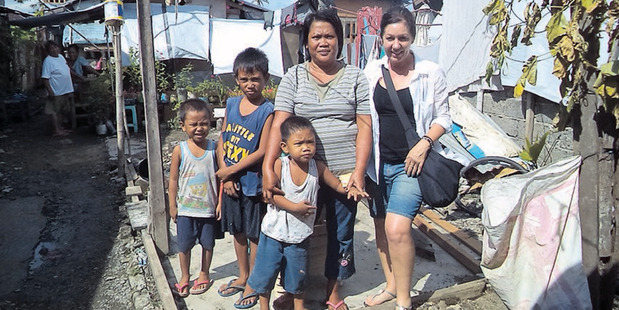 Four houses and 11 roofs is what one Tauranga-based artist has been able to give back to Typhoon Haiyan victims in the Philippines.
Julie McGowan arrived back from the diaster-zone two weeks ago after a two-and-a-half-week whirlwind trip to Tacloban and Mindoro.
The mother of three had previously visited the area for six weeks earlier this year and had since been fundraising for a second visit.
Mrs McGowan raised $7000 which was used to buy the supplies for four houses, 11 roofs, basic tools, health care and bags of rice for families in need.
Mrs McGowan said she wanted to return to the country after being "haunted" by her first trip.
"It's only a little bit of my time and a little bit of work and it makes me appreciate everything I have so much more.
"The people are so appreciative and nice as well, they wanted to give me gifts and they had nothing. I was only there one week earlier and people remembered my name," she said.
The first week of her recent visit was spent in Tacloban.
"We were just motoring, we went out into villages and found families who were really still needing help, we looked for the neediest families."
However, since her first visit Mrs McGowan said she saw a vast improvement since Typhoon Haiyan battered the country November 8, 2013.
"I am amazed at the work the people in Tacloban have done. We struggled to find people who needed full houses, as most people had a frame already."
The rest of her time was spent at the Ruel Foundation Orphanage in Mindoro helping out in the orphanage and giving back to a small ethnic community found only in the area.
"We bought six bags of rice and spent a day separating it out into 2kg bags which where then donated up in the hills to the Maneyan Tribes, who are the ethnic group who live in Mindoro, there are about seven tribes and we were able to feed 140 families with the bags."
Mrs McGowan said she tried to use the rest of the money within the region.
"Wherever I saw a need I was able to help. There was a baby with terrible scabies, from head-to-toe scabies, and it was passed from hospital to hospital so I paid for the baby to be cared for by a nurse for one week [and] then go on to the Ruel Orphanage."
Mrs McGowan said she returned with just $30 of the $7000 raised.
"This I have re-banked and I am hoping to go again in another year or over to Burma to help out there," she said.

The hard facts
The Philippines has an estimated population of 97 million people living on 2000 of the 7000 islands that make up the nation's land area. In spite of government efforts, 2013 statistics estimate that approximately 25 per cent of the population live below the poverty level.