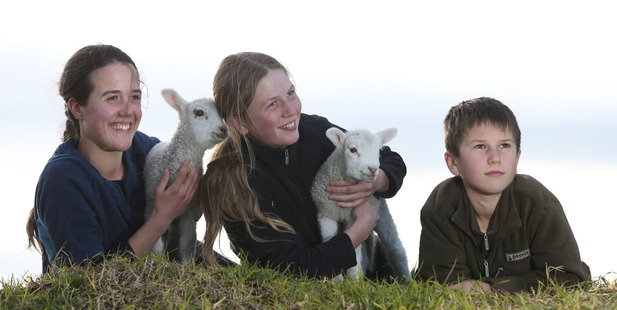 Meet a cute, cuddly bundle who's been dubbed New Zealand's luckiest lamb.
Its rescue and survival, after plummeting 6m to the bottom of a deep offal-filled pit used for farm waste, is a remarkable story of faith and hope overcoming long odds
The distressed animal's bleating saw Omokoroa's Pip Lusby and her three young children in a race against time to free it.
They managed to lower a line, lasso the stuck lamb and haul it to safety - but not before many tears were shed as emotions ran high during the tricky rescue.
But the 3-day-old lamb, who has been named "Lucky", nearly didn't make it and its rescue and survival has been put down to an "answer to prayer".
Initial attempts to pull up the lamb failed - until the family stopped to pray. When they tried again they immediately slipped a knotted rope around its head and hauled it up in one go.
The drama began when Mrs Lusby's mum, Lois Crapp, checked a ewe and two lambs in a holding paddock and noticed a lamb was missing.
Mrs Crapp's granddaughter Jess, 16, heard faint cries from the offal pit.
"We shone a light in the hole and saw the lamb," said Mrs Lusby. "It was walking around the bottom of the hole with all these rotting carcasses and it was just crying. It was really horrible to see."
Mrs Lusby's children helped her tie together a knotted rope as a makeshift harness. But the first attempt to lift the lamb nearly ended in disaster.
"We got it several metres up and then it began to tilt and it slid out. We thought we'd killed it. It was very distressing. It laid for a while and then sat up.
"We got another rope, and I got Jess to make a lasso-type knot.
"Then we sat around and we all prayed and I said 'Lord, please help us to get this little lamb out'."
The rope was then lowered and they were successful.
"We didn't think we'd get the knot around the lamb's head but we managed it on the first attempt. I hoisted her up real quick ... she was covered from head to toe in this rotting muck, it was disgusting," she said.
The lamb was washed but went into shock and began to shake. After it was warmed with hot-water bottles, they tried to reunite it with the ewe. But the ewe didn't like the way it smelled and began to bunt her.
"She's been spoilt rotten and she been in the house next to the fire and getting lots of cuddles. She must be the luckiest lamb in New Zealand."
Now Lucky has become part of the family.