Bay of Plenty Times journalists are volunteering up to a day's labour for local charities then profiling these organisations in a feature story as part of the series The Bay of Plenty Times Gives Back. Today, Ruth Keber writes about helping Tauranga Age Concern.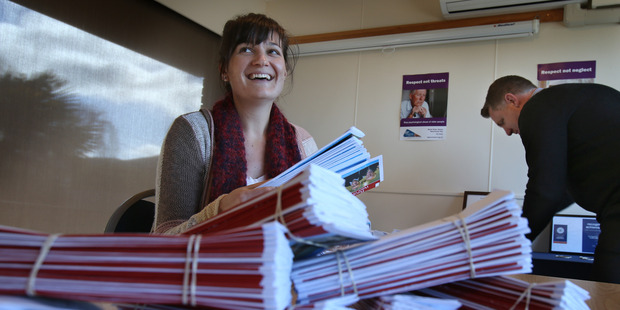 My best friend and I would often boast to each other how many letters we had written to our grandparents through our younger days.
One of us would come home and relish the fact we had paid our dues by sending a card or small package across the ditch home to either of our matriarchs, which would outline our action-packed adventures.
Since I have moved back home to New Zealand my letter writing had dropped off to maybe a letter every couple of months and as I sat folding newsletters for Tauranga branch Age Concern, I was reminded why I initially started to write those letters -- to combat loneliness.
Tauranga Age Concern general manager Tanya Smith said this was one of the core goals of the organisation, which was set up in the Bay 26 years ago.
Through different programmes including their accredited visiting service (AVS) and an elder abuse prevention service (EANP) the organisation's key vision was to support positive aging of people.
"An inclusive society where older people are connected, supported, empowered, celebrated and respected," she says.
Mrs Smith says the AVS was working to decrease the level of social isolation and loneliness of older people in the community by providing a trained, caring volunteer who would visit a client on a regular basis for companionship and friendship.
The EANP was a confidential service to provide support, information and advice for older people and their families on issues of elder abuse and neglect.
One of the biggest problems for old people today is social isolation, she says.
"Sometimes people just need an ear to talk to."
The 2013 census shows 23 per cent of Tauranga's population is 65 and over, which works out to about 26,000 people.
Age Concern knows the loneliness index is about 9 per cent of the population, which means based on Tauranga statistics 2376 people over the age of 65 would suffer from some form of loneliness and would benefit from the AVS.
AVS co-ordinator Andrea Billingsley says they are only able to help the tip of the iceberg with the organisation just being able to cater for 150 clients, which 110 visitors were spread over.
Ms Billingsley says there are three criteria which an elderly person needs to qualify for to receive visits.
"The person referred has to be at risk of social isolation due to no or very few visitors, they do want and are able to contribute to a mutually beneficial friendship or relationship, and the person has to be living in the community.
"We don't match people in rest-home care."
Ms Billingsley says of the 150 clients they cater for, the majority fall into the 84 to 90 age bracket and live in Tauranga and Mount Maunganui communities.
Age Concern Tauranga gets its funding based on visit numbers so the more visits it records, the more likely it would be able to look at increasing visitor numbers in the future, she says.
Once a visitor was set up with a client they often undertook another client to visit but there was quite a vigorous application process with selecting volunteers for the visits, including training and police checks.
Once this was done Ms Billingsley was responsible for setting up matches.
Client and visitor matches are chosen on location, proximity, things in common and specific requests of the clients, she says.
"If you don't get that right and you get an elder person matched with an inappropriate volunteer and the match falls over, the elder person often blames themselves and they actually feel worse than they did before.
"So for me as a co-ordinator that is the most important part of the job, getting that right.
"One of my clients went through three volunteers until a perfect match had been made and that has been going on for two-and-a-half years now.
"Often my matches have longevity, often until the person passes away so it's a very key relationship and very important to the client."
This particular service has been in Tauranga for about eight years with some volunteer visitors still around from its inception, Ms Billingsley says.
"I'm not really interested in putting a lot of effort into training somebody and making a match if they are only doing it until they get a job or when they move to another area.
"To me that's not actually considering the needs of the elder person, which is what we are here to do."
The organisation also deals with about 50 open, active cases of elder abuse and neglect in the Tauranga community.
It happens a lot behind closed doors and often only comes to light when it is too late. Elder abuse and neglect prevention co-ordinator Michelle McGee says a lot of the abuse is from adult children with mental health or drug and alcohol issues.
Ms McGee says when she started the job she thought the perpetrators of the abuse would have been caregivers or rest homes under stress, but what she saw was family violence.
"We are less respectful of our elders," she says.
"We are bringing up generations of children which feel entitled to stuff, feel entitled to inherit or to spend their parents' money and we don't have strong enough boundaries and often the parents are made to feel guilt and the situation is their fault, which complicates the situation further."
Ms McGee also notes the difference between elder abuse and family violence.
"About 40 per cent of the victims are male and about 50 per cent of the abusers are female, where in family violence it is normally the other way around."
Ms McGee says again the figures are also the tip of the iceberg.
"People don't know we are here until they need us," she says.
Elder abuse is defined as a single or repeated act, or lack of appropriate action occurring within any relationship where there is an expectation of trust, which causes harm or distress to an older person.
Ms McGee says the elder abuse she deals with in the Tauranga community is varied.
"It's mainly psychological, a lot of financial and a lot of physical, but it's kept hidden. And as people are getting older, they are more fragile so it doesn't take much of the physical for a really bad outcome."
When new cases are referred to the organisation Ms McGee will then visit the victim and do a risk assessment.
"It's about what the elder person wants. I don't go in and tell them what to do or call the police, unless that is what they want or it is a life and death situation."
Age Concern Tauranga gets about a dozen referrals a month with most of the cases considered serious, she says.
However, positive outcomes come about in most situations.
Having only seen my grandmother the weekend before my Age Concern visit, I hadn't really thought about the next time I would put pen to paper. But as I sat still folding my 456 Age Concern newsletters I started to pre-write the next one in my mind and went home that afternoon to complete it.
It would only take me 10 or so minutes to complete and I knew it would make her day, if not her week.