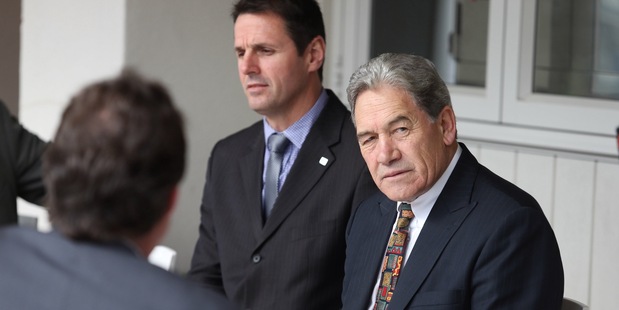 Tauranga's tolls buster Winston Peters has pledged to come to the rescue of city motorists for a second time if New Zealand First joined negotiations to form a new government.
The leader of NZ First said that if they got the numbers and ended up on Parliament's cross benches after the election, he would make it a condition of the party's support that ownership of Route K and its $64 million debt would be taken over by the Government.
"Yes, tolls will come off," he said.
Mr Peters delivered the assurances during an informal cafe meeting with Tauranga councillors in Red Square yesterday.
His promises harked back to 2005 when NZ First helped return Labour to power in return for tolls not being reintroduced on to the Tauranga Harbour Bridge.
Yesterday's meeting was organised by councillor Clayton Mitchell who had made it his crusade to get the $64 million debt off the council's balance sheet.
Mr Mitchell is New Zealand First's candidate for Tauranga. "When we make promises about transport in the Bay of Plenty we keep it. We do not make these commitments lightly," said Mr Peters in an obvious reference to Prime Minister John Key's 2008 pre-election promise to fund all of the $100 million Hairini Link project.
Mr Peters dismissed as not logical the current proposal for the agency to take over ownership of Route K but for the debt to stay with the council.
Route K saga
*Route K opened in July 2003.
*In September last year, the road's debt sat at $61.5 million
and predictions were that Route K was not expected to
become cashflow positive until about 2026.
*The NZTA is due to take ownership of the toll road from
July 2015.
*The toll increased from $1 to $1.50 in January 2012, but
has now risen to $2.