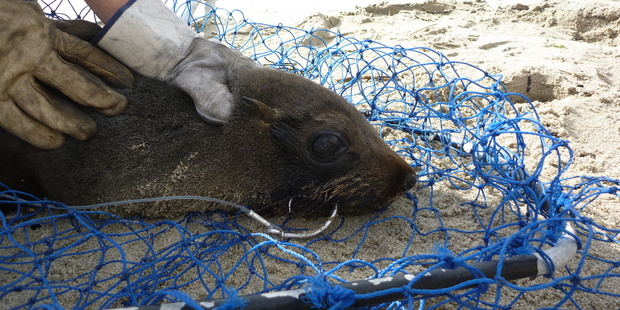 Concerned Mount Maunganui residents reported a young fur seal pup with something embedded in its mouth to the Department of Conservation today.
Department of Conservation rangers investigated and found the pup, about 9-months-old, had a large hook through its mouth, which was carefully cut and removed. The seal pup was then released.
Ranger Dan Rapson said New Zealand fur seals were now a common sight in the Bay of Plenty during winter until late spring. Coastal residents and beach visitors were increasingly able to see both adult and juvenile animals in their natural habitat, lazing on the beach and playing in the water, he said.
"Thanks to the concerned public who rung the DOC hotline, these are the types of calls that are very important for the safety of the marine mammals. Today's incident resulted in a positive outcome with the seal pup being released," he said.
"Late winter and spring sees an increase in fur seal pups on our coastline, as they are being weaned from their mothers and becoming independent.
People should be aware that seals can carry infectious diseases and deliver a nasty bite when threatened, so we suggest keeping 20 metres away and taking extra care controlling dogs. Never touch a seal or feed them, and it's illegal to harass or injure a seal," Mr Rapson said.
The Department on Conservation has a minimum intervention policy with seals, only getting involved if the seal is seriously injured, being harassed, is entangled or is in a dangerous place such as a road. In these situations, DOC rangers would take necessary action.