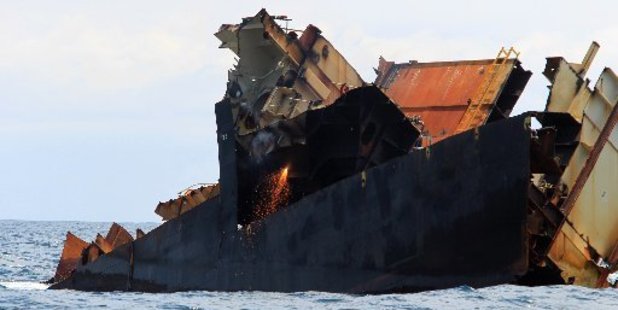 Tauranga City Council has taken a neutral stance on the Rena remaining on Astrolabe Reef until independent reviews of evidence that supported leaving the wreck were available.
The council yesterday resisted pressure to oppose the application by the Astrolabe Community Trust to leave the remains of the Rena on the seabed. Instead it opted to keep its submission neutral because it would not have seen the peer reviews of the trust's 17 technical reports before the August 8 deadline for submissions.
It was widely expected that the trust's application to the Bay of Plenty Regional Council would be referred directly to the Environment Court.
Mayor Stuart Crosby said the level of evidence needed for an Environment Court hearing was a lot higher than if the regional council took the hearing, and revolved around expert independent evidence.
He urged the council to take a stepped approach to its submission, saying all they had at this stage was the applicant's evidence. Although his view was that the wreck should be removed, he said the council should not get itself into a position that was not creditable.
Motiti Island iwi representative Buddy Mikaere spoke to the meeting, saying that by opposing the application hapu were sending a clear message to Rena's owner and insurer about the consequences of leaving the wreck in their environment.
He said going direct to the Environment Court was an intimidatory tactic.