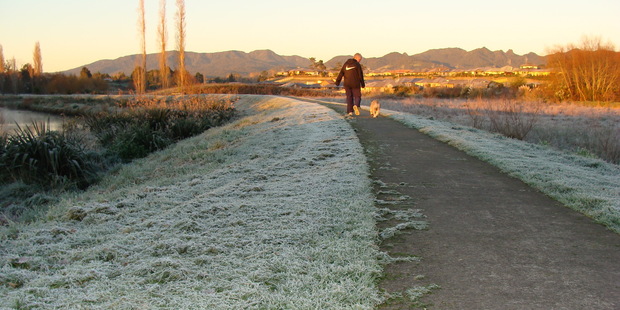 Western Bay of Plenty people have been warmed to rug up warm against frosty weather this week but forecasters say the snow which fell on the Kaimai Range yesterday was unlikely to return anytime soon.
The snow dusted mostly the northwest ridge of the range, creating a spectacular sight particularly for residents in Katikati and Omokoroa.
Snow rarely falls on the range but Metservice forecaster John Law said strong southwesterly winds buffeting the Kaimais was the reason why there was a powdering of white there yesterday morning.
Mr Law said although the rest of the country was suffering the cold and showery winds, the Tauranga area was mostly sheltered by the Kaimai Range.
Snow fell to about 950m on the range and although it was unlikely to return anytime soon people should brace themselves for cold, clear nights for the rest of the week.
Mr Law said although the Bay escaped most of the wet weather which was affecting other parts of New Zealand this week, the dry and fine conditions meant there were clear skies and little cloud cover to keep warmth in.
"You are pretty much the place to be right now because you have the nice, dry weather.
Those clear skies and cold nights will mean frosts but if you can wrap up at night an rug up warm, you will be fine."
Temperatures were forecast to reach 3C last night and just 2C tonight.
Showers forecast for Friday will put an end to the fine weather before sunshine returns on Saturday.