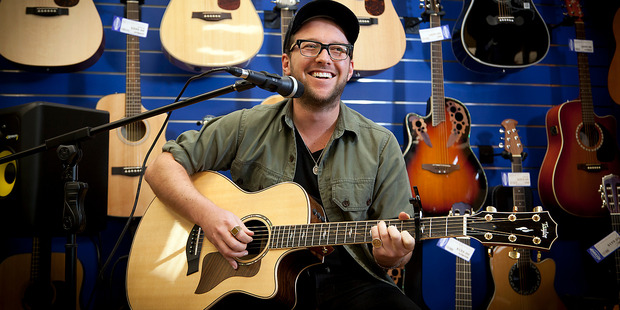 Former Midnight Youth frontman Jeremy Redmore was back in his hometown at the weekend to perform songs from his debut solo album.
The ex-Tauranga Boys' College student performed to an intimate crowd at the Rockshop.
Redmore shared the stories of his 11 tracks, playing back his late-night recordings of melodies that had popped into his head before they eventuated into singles.
His album Clouds Are Alive will be released on Friday as a collection of personal experiences, he said.
Redmore began his solo career after leaving Midnight Youth last March.
"The special thing about Midnight Youth was that we were all best mates doing music that we loved and touring the world. It was a really special thing so that's never really going to disappear."
A solo album was a chance to explore his own writing, he said.
"This album is like an eclectic singer-songwriter album because there's a rock song, there's a very sleepy acoustic song, there's pop songs, there's a country song. It's all over the place but it's all based around the stories."
Songwriting on his own was challenging - but worthwhile, he said.
"I was starting from scratch. I had no fans who knew my name ... It was a lot of hard work and a long process but it came together."
Redmore said he never had music lesson. "I did Year 10 music and got a C and thought 'I'm not any good at that'," he said.
"I did productions because I wanted to meet girls and that was my only real interest in them."
Redmore was picked out by Tauranga music teacher Murray Mason to sing for the school's big band despite never having sung solo in front of a crowd.
"He made me sing along with a song and said, 'yep, you'll be fine. Practice is next week' and threw me into it.
"The first show we did was at Morrinsville Intermediate and I loved it. I got the bug and started writing later on in the year and went on from there."
Redmore wrote a tribute to his Tauranga upbringing in the album with the song Waimarin'o, named after the popular waterpark.
The song reflected the outdoor, camping lifestyle he always wanted but missed out on and described the type of 14-year-old romance he imagined could happen there, he said.
Redmore had a fulltime day job as a sports reporter, working under a different name, to fund his passion. "I don't know many musicians who don't have day jobs," he said.
View his video below or mobile users can click on this link: https://www.youtube.com/watch?v=0XLsBX_Oha8