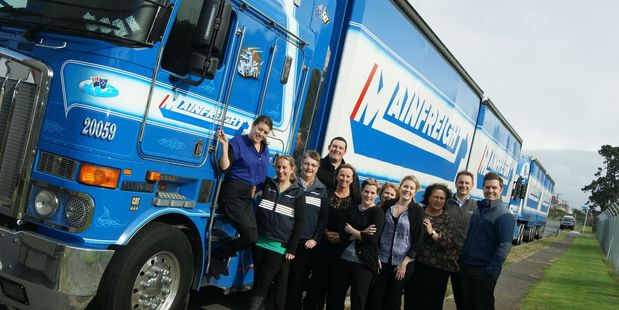 The staff and drivers of Mainfreight Air and Ocean Tauranga and Mainfreight Transport Tauranga have created the ultimate fundraising machine, set to dig deep for Red Nose Day next month.
Lead by a team made up by Grant Yeatman, Bronwyn Gower, Courtney Stevenson, Melissa Josephson and Pauline Bettonviel, Mainfreight Tauranga is organising all sorts of fun activities in support of Cure Kids.
They call themselves the Fraggle Rockers, and are amped to once again make a difference for Cure Kids by taking part in Red Shirt Day, a big bake-off, and enter funny team photo competitions to raise money for the charity.
As a team, they are also getting behind a big golf fundraiser and meat pack tournament which will be held at the Omanu Golf Club on Matapihi Rd on August 10.
"The Fraggle Rockers were born with the intention to rock the socks off all the other Mainfreight competing branches.
"Last year, we raised a well-rounded $8000," Grant says. According to the Fraggle Rockers, winning is the name of the game, but the real challenge is to raise money for the kids and the important research Cure Kids do for our communities.
Along with the Mainfreighters, hundreds of businesses and individuals will get busy baking, selling, and challenging themselves to raise money for Red Nose Day. Due to the collective efforts, the total raised for Cure Kids last year was $1.4 million.
"This is a huge amount and we can proudly say we were a part of it," says Grant.
"Although our participation this year is a little more low-key, it will be a lot of fun and we're all keen to once again make a big difference."
RED NOSE DAY
Red Nose Day was established in New Zealand in 1989, back when Cure Kids was known as the Child Health Research Foundation.
Today, Red Nose Day for Cure Kids is held nationwide to help keep funding research into the illnesses and conditions that affect the lives of Kiwi kids. All local businesses are being encouraged to get inspired and set a personal or team challenge to raise funds and help cure kids. Having fun raising funds is a great way to foster team spirit. See www.rednoseday.co.nz to find out how to get your workplace involved.