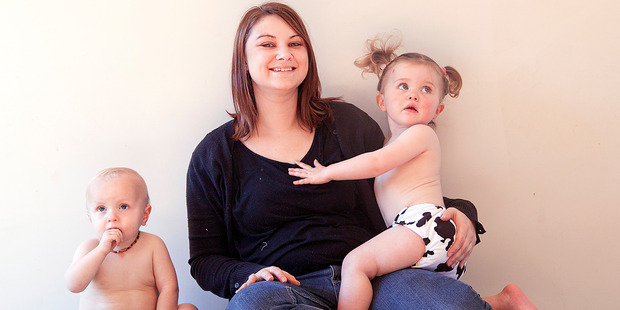 A Papamoa daycare centre has prevented about 1800 disposable nappies from going to landfills since switching to cloth nappies in February.
Child's Wonder is the first centre in Tauranga to switch to using only cloth nappies and was the second in the country to do so.
Centre manager Beverley Cruywagen said the centre used to go through about 200 disposable nappies a week but now used about 90 fewer.
Children up to the age of 2 were now changed into cloth nappies when they arrived and were put back into disposable nappies to go home.
Annually the centre would prevent 8000kg of nappies going to landfill, she said.
"I think it's a really important topical thing for families," she said. "I think part of our role as an early childhood education centre is the education of families, not just children."
Mrs Cruywagen expected an uproar when she told staff and parents of her plan but instead was greeted with support.
Since then three families from the centre had switched to always using cloth nappies.
The cost savings for families were huge, she said. In two and a half years disposable nappies, and the cost of disposal and wipes, would be $5500 per child but to buy 20 cloth nappies, wash them, dry them, buy liners and wipes for the same period was only $760.
Nursery head teacher Jo Wensor said the use of cloth nappies was not only eco-friendly but they were more breathable and better for children's skin.
Children were also more aware of when they wet themselves and would tell staff meaning toilet training often occurred sooner, she said.
Katikati's Nappy Lady, Kate Mead, helped the centre with the transition. "The biggest change I've seen is that people use cloth nappies when they are at home and disposable when they go out."
If every parent used one cloth nappy a day hundreds of thousands less nappies would be sent to landfills each year, she said.
"I estimate that with around 2100 births per year there would be around 32,000 disposable nappies going to landfill every day in Tauranga if the babies were all in disposable nappies," she said.
Tauranga City Council was supporting Mrs Mead's workshops to encourage more parents to consider using cloth nappies by paying $25 for a starter pack worth $100 for each family that attended.
Two more workshops would be held on September 1.