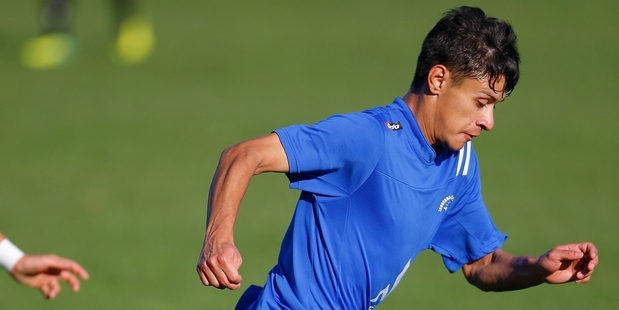 A Jerahl Hughes hat-trick has sent Belvedere Group Tauranga City United three points clear at the top of the Northern League 2nd Division following their 3-0 away win over Waiuku on Saturday.
Traditionally a tough side to beat at home, Waiuku had put together a good campaign since going down 5-0 to Tauranga at Links Avenue in April, and were in third spot on the ladder only three points behind the Blues.
After experiencing torrential rain on the journey up, Tauranga were expecting the worst when they arrived at Massey Park, but were surprised to find the wind had died down and the rain had stopped.
This was great news as it allowed the visitors to play the game the way they wanted to, as they dominated from go to whoa. The midfield linchpins Josh Nelson, Jordan Culpepper and Mark Van der Salm controlled the game, rarely letting the home side into the match.
Any attacking play by the hosts in the Tauranga area was dealt with confidently by the Blues defence.
Tauranga had several opportunities to score before the first goal came 10 minutes before half time. Good interplay between Jerahl Hughes and Andrew Cooper resulted in Cooper breaking through the Waiuku defence and squaring the ball across for Hughes to slam home the first of his three goals for the afternoon.
Hughes's second came a few minutes later when from the wing he outpaced the defence, then beat the keeper to give the visitors a 2-0 lead at the break.
The second half started with Tauranga back on attack and they were rewarded after 15 minutes when Hughes completed his classy hat-trick, when he beat his defender and rounded the keeper to score. Hughes' skill on the ball, particularly his fast footwork, is proving hard to contain by all he comes up against.
Waiuku's danger man Derek Sinclair however was well controlled by the Tauranga defence, with Daniel Looker once again providing a solid performance.
The weather on Saturday resulted in only half the matches in the division being able to be played but Tauranga took full advantage and have put pressure on the chasing pack in the race for promotion.
Waiuku 0 Tauranga City United 3 (Jerahl Hughes 3)