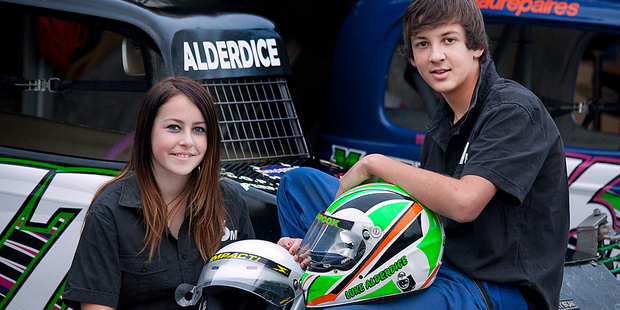 A little competitiveness is normal between brothers and sisters but when Luke and Sam Alderdice take their mini stock cars onto the track, things certainly heat up.
For Luke, 16, the adrenaline buzz that comes with racing and the thrill of winning is what matters, but for Sam, 14, it's also about beating her brother.
The gutsy siblings from Brookfield who both attend Otumoetai College were introduced to racing by their grandfather Barrie Alderdice, and their grandmother Shirley is one of their biggest supporters.
"As soon as they turned 12, the car was put on the front lawn," says the kids' mum Sue Alderdice.
"Some mums can't watch it but I love seeing them race," she says.
Barrie passed away a few years ago but his friends Rod McCallum and Alan "Wattie" Watson still support the young racers in many ways.
They also teach them all there is to know about maintaining the cars.
"We are very thankful to all our sponsors, and to Rod and Wattie for all that they do. They teach Luke and Sam how to do things the proper way and they are learning fast. They both love working on their cars," Sue says.
Both Luke and Sam have done very well in their sport this season. Luke was awarded first overall at BayPark, with a third trophy on opening night.
He also achieved first overall at Waihi Beach Dirt Track, with Most Consistent driver.
"He also qualified third at Ministocks in Paradise in Rotorua, with 180 mini stock drivers from all over New Zealand, but he missed out on the finals because of a blown diff," Sue says.
Sam has gained a lot of experience by learning from her brother and she has done well by winning second overall at Waihi Beach Dirt Track and the Samantha Mouat Cup for Most High Spirited Driver for the season.
"She also received a trophy for Reps choice at BayPark for getting fourth, and to her credit a great drive to withhold all the boys on that night," Sue laughs.
The speedway season runs from October through to early May and when it's over, Luke and Sam can't wait for it to start again.
"There's nothing like being lined up bumper to bumper, revving up and waiting for the green flag, dropping the clutch and go until you see the red," Luke says.
Follow Dice Racing on Facebook to keep up with Luke and Sam's racing achievements.