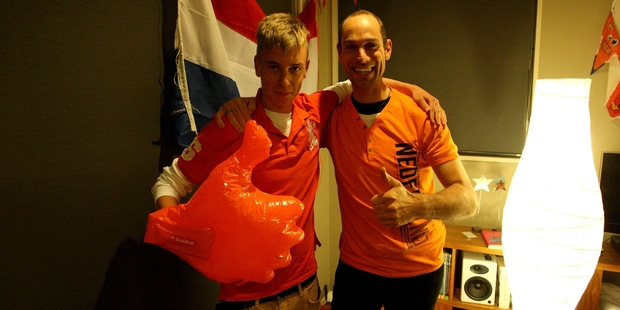 Robert Lambrecht has no doubt that Germany will take out this year's Fifa Football World Cup.
According to the 18-year-old German backpacker there is a special rule which is working in his teams favour.
"We haven't won the World Cup for 24 years. After Brazil won three world cups it wasn't until 24 years later that they won their fourth.
"The same happened with Italy, and now it's our turn," he said.
However, he could never have predicted the "crazy" seven to one thrashing of Brazil yesterday morning.
"The first half was insane, I couldn't believe it."
While the Germans celebrated their miraculous victory, Brazilian fans were hit hard by the loss.
Mount Maunganui restaurant and bar Armazen had about 50 Brazilian supporters watching the game yesterday morning.
According to employee Carol Michelli they all went home looking very upset.
"People were asking me all day if I was Brazilian and I told them I was German just for the day," she said.
Meanwhile, Theo Ursum has warned his colleagues he would be late to work today.
The Dutchman will be glued to his screen for what he expected would be a nailbiting semifinal match against Argentina. "I've certainly watched all the Dutch games. I've been getting up at 4am," he said.
Mr Ursum said he did not have high expectations for his home team going into the tournament but is now hopeful they will make it to the final.