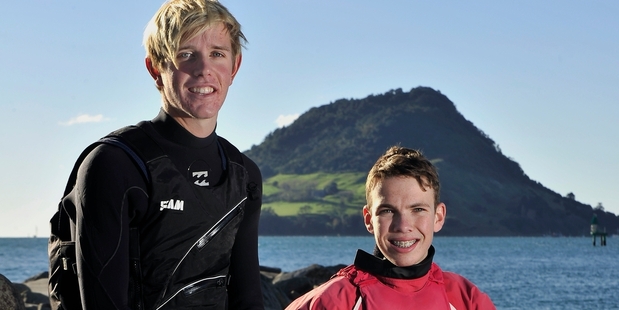 Zak Merton and Sam Barnett are aiming for a podium finish at the 2014 ISAF Youth World Championships.
The two Tauranga Yacht and Power Boat Club sailors will represent New Zealand in the 420 class in Tavira Portugal from July 12-19 and after finishing fifth at last year's world's in Cyprus they have spent 12 months planning and training how to bring the title home.
The pair has amassed plenty of international and big fleet experience, including a respectable 15th at last year's Open 420 World Championships, which is the precursor to the Olympic 470 class.
Earlier this year they contested the British Youth National Champs in Weymouth, finishing a close third, and skipper Barnett said they took on board some key learnings to help them in Portugal.
"It was really good to go because we worked out what we needed to work on for this period leading up to the youth worlds, so we had a list of areas to improve on after going to Britain," said Barnett, 17, who attends Tauranga Boys' College.
"We have worked on them pretty hard and we feel like we have ticked them off and are well prepared for Portugal. Last year we noticed it was crucial to put together a very consistent series at the youth worlds because there are not very many boats but the competitors are of a high calibre.
"If you had one or two bad races you went down the standings very quickly so to get a top three result this year we are going to have to put together a consistent series with no results outside the top ten really."
Merton, from Otumoetai College and turned 18 last Thursday, sailed in Tavira three years ago and is expecting light to medium conditions but quite choppy compared to sailing in the Tauranga Harbour.
He says last year in Cyprus was a big learning curve for them both as it was the first time they had sailed together.
"We have been training for the last year with this ultimate goal in mind. We were a new pairing together so we tried to keep things nice and simple and just nail the basics right.
"We saw other people doing some really funky stuff over there so this year we have tried a lot of different things and we are way more technical than we were then."
Merton and Barnett compete overseas thanks to support from BoPSAT , Yachting NZ, NZL Yachting Trust, High Performance Sport NZ, Ocean Bridge, ZIC and Tauranga Yacht and Power Boat Club.