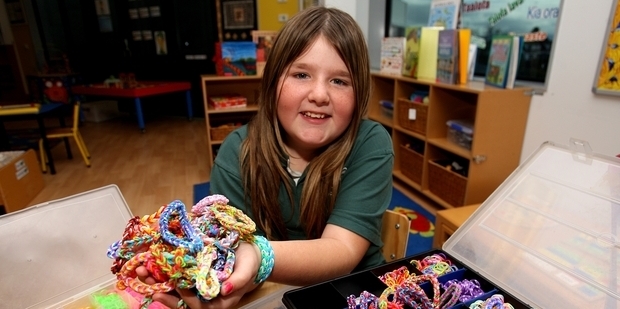 It's been an interesting week of news - locally, nationally and across the world. Here are my views on the good, the bad and the ugly.
The Good
Macayla McAlley
Loom bands - it's the latest craze for kids.
We reported on Wednesday how Bay children are making bracelets and bands by weaving coloured rubber bands together using a crochet-like hook and plastic loom.
Our follow-up story the next day again demonstrated there are inspiring young people in the Bay who will grow up to be decent adults.
Macayla McAlley spent hours making hundreds of loom bands to donate to sick children at Tauranga Hospital. The 11-year-old thought of the idea after spending a night in the hospital's children's ward.
"I have been up in hospital before and it's not a very nice place so I thought it would be pretty cool to make them to give them to all the children in the hospital," she told us.
Her deed is impressive for someone so young. You're a star, Macayla.
Monika Barker
I love stories about senior citizens doing something out of the ordinary - and Monika Barker is a classic example.
The Mount Maunganui woman has just recorded her first CD - at the age of 81. Mrs Barker has been singing most of her life and her family finally convinced her to cut her own album.
Sometimes at the end of recording a song for the CD she'd let out a "whew" and the producer left that on the track. What a wonderful idea. It will give the album an edgy, raw quality.
Mrs Barker's a great example of how age doesn't have to be a barrier to achieving dreams.
I hope it inspires other seniors.
The Bad
Beneficiaries going overseas
We revealed yesterday that hundreds of Western Bay beneficiaries had their benefits cut because they went overseas. Nationally, the crackdown on beneficiaries travelling overseas has saved the country more than $10.5 million in suspended payments.
Our welfare system is supposed to be a safety net for people who genuinely cannot afford to support themselves by working, not a gravy train.
I believe in a welfare state because we should always look after our most vulnerable.
But that money should not be used for overseas trips.
Lou Vincent
It's hard to go past Lou Vincent for ugliness. The disgraced cricketer admitted 14 counts of match-fixing while playing for Lancashire and Sussex during county cricket's limited overs competitions.
He also confessed to fixing across in the Indian Cricket League, the 2012 T20 Champions League, played in South Africa, and was banned for three years by Bangladesh cricket for not reporting an approach while playing for the Dhaka Gladiators in its T20 franchise competition.
His punishment? A life ban.
Good on him for fronting up. But it all wore a bit thin pretty quickly.
This was not a mistake or a momentary lapse of reason. It was planned, deliberate corruption at the highest level of sport.
Life ban? He's out of the game anyway. He should instead be charged and serve prison time.
And the Ugly
Rolf Harris
I can remember as a child in the 1970s watching Rolf Harris on television drum his hand over a paint tin and proclaim, "Trust British Paints - sure can!"
There was something creepy about the man.
More than 30 years on, it is now clear that while we might be able to trust British Paints, no-one can trust Rolf Harris.
The once famous, now infamous, entertainer occupies the ugly list after being found guilty of abusing four girls in a string of sex attacks dating back more than 40 years, and more allegations are now emerging.
Somehow Harris got away with ruining people's lives for years.
What a monster. He deserves to rot in jail.