The famous saying of many hands was certainly true at the Athenree Wetlands planting last Sunday.
Department of Conservation ranger Pete Huggins said the numbers speak for themselves - 75 planters, 4000 plants, three hours, several boxes of bottled water and 100 sausages.
So the let's plant 9000 plants is certainly achievable.
Waihi Beach Environment Society Inc member Brian Hepenstall said they now have 5000 plants to complete the 9000 required to be planted this year.
"What we are proposing now is to bring 1000 plants a day to the wetland on each of the next five Sunday afternoons to get the planting finished."
The volunteers at the Athenree Wetlands on Sunday were keen to keep going and do another event this coming Sunday - May 25, and then the Sunday after (June 1) until the plants are all in the ground.
Planting starts at 1pm, plenty of parking off Steele Rd.
Talk to your neighbours, friends coming down to the Beach for Queens Birthday - enjoy some fresh air and get a 'feel good' about making the Athenree Wetlands into the wildlife haven it will be once these plants have become established.
A rare bird
Rare in New Zealand, with a population of just 100 - 120 birds, the elegant white heron or kotuku (Egretta alba modesta) is nevertheless common in India, Japan, China and Australia.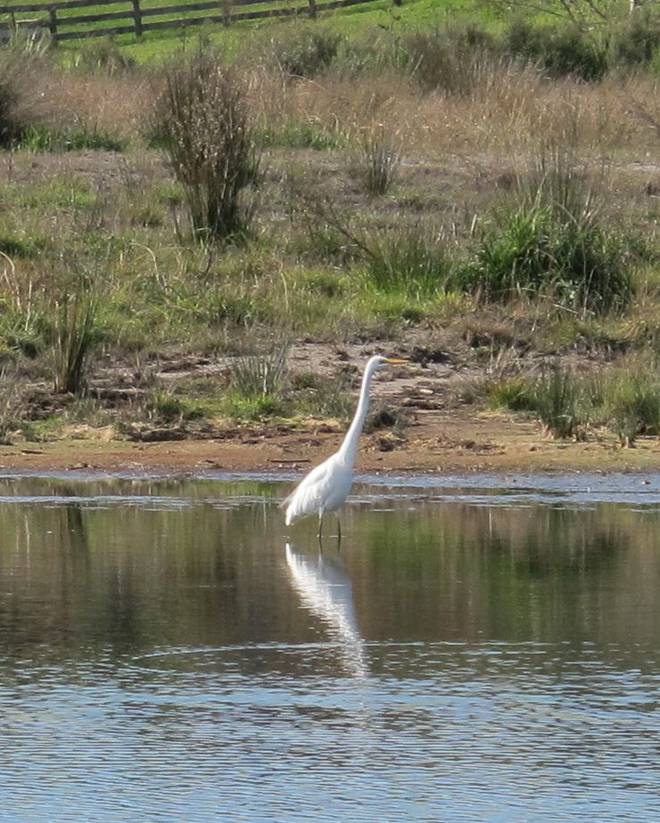 With a long, slender neck, yellow bill and thin legs, white herons grow to 92 centimetres in length and 900 grams in weight.
In flight their long neck is held kinked. During breeding their bill darkens and a veil of fine feathers extends beyond the folded wings and tail, accentuating their graceful profile.
Kotuku had mythical status for Maori because of their rarity and beauty. The epithet, 'te kotuku rerenga tahi' (the white heron of a single flight) was given to distinguished guests who seldom visited. Internet