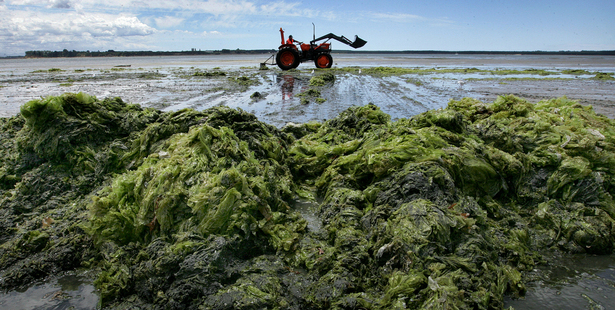 Sea lettuce from Tauranga Harbour could be harvested and turned into biofuel or health products with the help of Chinese researchers.
Professor Chris Battershill from Waikato University's Coastal Marine Field Station yesterday told Tauranga City Council the smelly green algae could be turned into a biofuel or its bioactive qualities investigated to see if it could be used in herbicides, agrichemicals and even health products in the future.
He said the recent mayoral delegation to Asia, which he was a part, of had "fast tracked investigations" into the sea lettuce project because of a new partnership with Chinese scientists from Tauranga's sister city, Yantai.
He said establishing a joint research centre was just the start of the project, which he described as "very exciting".
"There is a long was to go but we are keen on setting up an aquaculture system so we can grow sealettuce in a controlled environment and in the future, encourage legislation change so we can harvest it from the wild," he said.
"This could be the start of an exciting new industry in the Bay of Plenty."
He said scientists from Yantai were coming to the Bay later this year where they would start looking into the project and other "innovative technologies" which he hoped would control the spread of PSA and an avocado fungi.
Representatives from Priority 1, the Port of Tauranga, Education Tauranga and ExportNZ BOP also praised the Asia trip during the meeting, saying it had strengthened business, education and tourism linkages with Tauranga's two sister cities, Yantai in China and Hitachi in Japan.
ExportNZ BOP executive officer Angela Wallace told council a Chinese supermarket chain, Zhen Hua was looking at creating a Tauranga stand in their supermarkets after a promotion during the trip.
She said about 12 Western Bay products such as wine, avocado oil, cosmetics and health supplements would likely be distributed throughout the chain, which had 36 stores.
"China is a huge market and having a sister city and having the mayor on this trip opened a lot of doors for us," she said.
Ian Chitty, from Vitamin Kiwi Ltd, which makes health supplements, told council his business had always planned to focus on the Chinese market and the relationships forged during the trip were "extremely helpful."
Graeme Lind from Education Tauranga said the trip would help boost the number of international students in the Bay, after meetings with Yantai education experts.
He said the revenue created by the city's current 858 international students was high but could grow easily, in part because of relationships formed during the Asia trip.
The trip also included time in the South Korean city of Ansan.
Speaking to the Bay of Plenty Times after the council meeting, Mr Crosby said the trip "opened doors which would not otherwise have been open".
The cost of the two-week trip for Mr Crosby and one council staff member was $14,064.
All other delegates, including Cr Matt Cowley paid their own way, Mr Crosby said.

What is sea lettuce?
Sea lettuce is a naturally occurring green alga native to New Zealand. It is one of the Ulva species, a macrophyte (large alga), which grows in sheets two cells thick, usually less than 30cm long but capable of growing much larger. Ulva is rich in compounds such as vitamins A and B. Early Maori used the edible sea lettuce in cooking, and varieties of sea lettuce are still eaten today in salads and stews around the world.