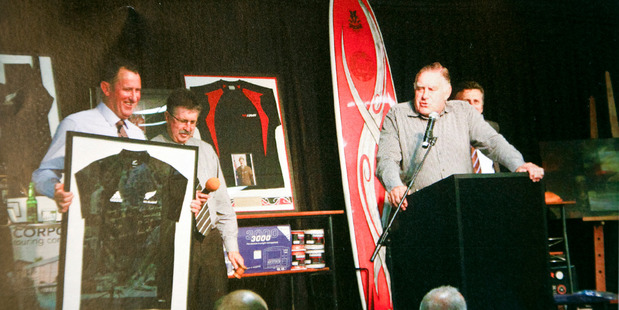 In a video interview Tauranga Police CIB Charitable Trust founder Detective Sergeant Pete Blackwell talks to Bay of Plenty Times reporter Sandra Conchie about the decision to call time on the trust's charity auction as it marks its 20th year.
Mr Blackwell said it was a hard decision but was the right time.

He shares his thoughts of how the fundraiser evolved and what it has meant to him and the community. A bumper amount of $1.9 million has been raised since 1995.
"After two decades of managing what has become a massive community fundraising event, the time was right to move on. I think timing is important and nothing lasts forever.
You're only as good as your last test and we're going out at the top of our game and on our terms.
That's important.
It feels like a death in the family in some ways as this has been a major part of my life. It will be a very strange feeling when it comes to an end. It's been a magnificent ride.
It's a great, great story. We never imagined when 40 detectives sat at Bureta Park in 1995 and listened to Gordon Tietjens (guest speaker) just how big our little local fundraiser would grow.
It grew beyond our wildest dreams, becoming the envy of many fundraising groups around the country for its successful ability to unite community, sport and business leaders for charity.
The amazing support of local businesses has been second to none - their giving has been incredible and the success of this event must be attributed to all those who make this happen every year.
We have achieved magnificent results over the years for the benefit of thousands of local children, young people and many other local charities and not-for-profit groups in our community.
After starting modestly with a charity auction that raised $200 in 1995, the luncheon has grown exponentially, raising a total of $1.9 million since then. A total of $280,000 was raised at last year's auction luncheon and funding recipients through the years have included many local sporting clubs, schools, surf clubs, housing trusts and community centres.
As an entertainment and charity event, the luncheon has become hugely popular and widely regarded as the hottest ticket in town.
It has attracted coveted auction items and top celebrity speakers, often with a sports connection.
These have included All Black great Sir Colin Meads, former All Black coaches Sir Graham Henry and Sir Brian Lochore, Australian ex-Wallaby, commentator and author Peter FitzSimons, and Australian World Cup-winning captain Nick Farr-Jones.
This is the year when we will exceed $2 million so it seems right to bow out at a time when the momentum is still there for everyone involved.
The organising committee is a small team, including Detective Senior Sergeant Greg Turner, Glenn Cotterill, Leona and Graeme Smith, John Mathewson of Air New Zealand, Sergeant Nigel McGlone and Judge Paul Geoghegan.
Collectively, they share my vision to improve the lives of the less fortunate in the local community, particularly children and our youth.
I could never have done this without the amazing support of my loving and understanding wife and family who have sacrificed a lot over many years to allow the success to continue and grow.
For me, life isn't about taking, it's about giving. People who support this luncheon get it. Sadly, many people don't. We encourage other individuals and groups to take up the challenge. Play it forward."