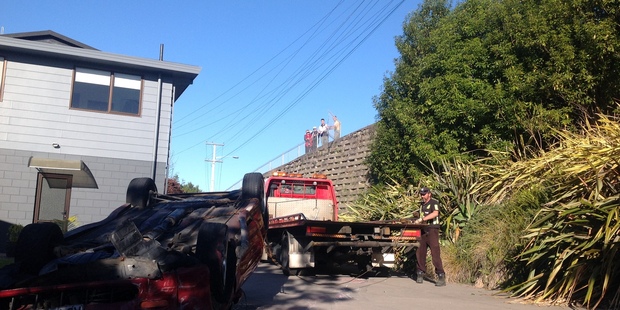 UPDATE: A 58-year old woman has been taken to hospital with a leg fracture and neck and back pain after her car left Ngatai Rd, breaking through a fence and falling metres over a bank into a property below.
The car landed on its roof but the woman was not trapped and was conscious when emergency services arrived.
Tania De la Haye was in her house at the time the car fell into her property.
"I heard the loud crash and I just grabbed the phone...I called and said just send everyone."
Mrs De la Haye's neighbour Sherylee Barnaby was standing in her kitchen when she saw the accident.
"It looks straight up at the road...I just saw the red streak go through the fence. Straight through and straight over.
"I went running out the door to see if everything was alright.
"My main concern was her so I was keeping her calm and speaking with her.
"She was very lucky to be wearing a seatbelt. She's one very lucky lady.
Mount St John shift manager Gary Bishell said the woman was taken to Tauranga Hospital in a stable condition and was conscious.
A witness to the crash told senior fire fighter Craig Dempsey the woman was travelling up the Ngatai Rd hill when she crossed to the other side and broke through the fence.
Mrs De la Haye's car was parked in her driveway when the other car broke through the fence and flew over her parked car and landed further on.
"I can't believe it didn't hit my car and it didn't hit my house," Mrs De la Haye said.

EARLIER: Emergency services are at the scene of a car crash on Ngatai Rd, after a car crashed through a metal fence and landed upside down in front of a house.
A reporter at the scene said the car had dropped off the road onto a driveway which is several meters below the road level.
The crashed happened about 2pm and the driver was treated at the scene by St John paramedics before taken to Tauranga Hospital.
A St John spokesman said the driver of the car, a 58-year-old woman, had a leg fracture and neck and back pain.
She was conscious and in a stable condition when she was taken to hospital.