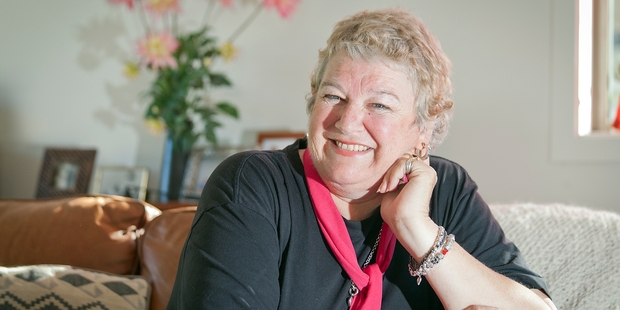 Papamoa's Nell Rowarth isn't afraid to be in the public eye to share a message she is passionate about.
Ms Rowarth, 60, recently got the all clear after being diagnosed with breast cancer on May 10 last year.
She went through six months of chemotherapy then radiotherapy and is sharing her story in support of the Breast Cancer Aotearoa Coalition (BCAC) annual campaign - Show Your Heart for Women Living With Breast Cancer.
"I've gone from someone who isn't into groups or clubs to this. I wouldn't be doing this if it wasn't important to get the message out there. I thought this was something I should stand up for because it is so important.
"We've got the best healthcare system in the world in our country, women need to get their mammograms and breast checks."
Ms Rowarth was diagnosed with cancer after a check-up the previous year came back with an all clear following a mammogram. She was asked to return in one year and 18 months later, had a follow-up and a biopsy revealed the lump in her breast was cancerous.
"Saturday was the first anniversary of my diagnosis. The treatment went really well, I've been so lucky. After all that, I just don't have any hang-ups about losing my hair or any of that."
Ms Rowarth felt lucky as she only needed minimal surgery and did not need to have her breast removed.
"It was a reasonably serious tumour and they managed to save so much. The surgeon was fantastic."
Ms Rowarth got help from breast cancer support networks after her diagnosis when she was given an information pack about the range of services available.
"You don't realise until you're actually in it who's there for you. It's not something you want to go through but if you have to, this is the country for it."
Ms Rowarth is sharing her story with everyone she can to encourage people not to put off checks.
"I'm actually telling complete strangers to get their checks."
Now she's been through the big C, Ms Rowarth is happy just being a grandmother. She hoped to take on some relief teaching work and get stuck into her gardens.
BCAC's campaign is being supported by Arnott's Tim Tam, with 20 cents from every pack sold in Countdown supermarkets between today and June 8 going to the organisation.