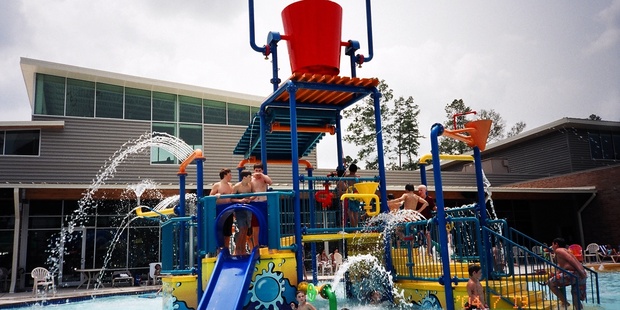 A new generation hydroslide with the tightest and highest banking turns in the world could be wowing swimmers at Baywave - potentially at no cost to ratepayers.
WhiteWater New Zealand has pitched a proposal in which the council could either buy the Constrictor ride at an eventual bottom line cost of about $500,000 or eliminate the risk and allow the supplier to become the owner/operator.
The proposal was expected to attract more than 44,000 extra pool visits.
The slide would run off a new tower about 13 metres high, nearly twice the height of the existing hydroslide that some users say lacks excitment.
WhiteWater director Grant Bennett said the Constrictor and the other component of its bid to add excitement to Baywave, the AquaPlay wet deck, would turn the pool into a destination attraction that generated surplus cash.
Mr Bennett said AquaPlay would broaden Baywave's customer base by becoming an attraction for children too young to ride the hydroslides. It would be installed in the vacant area below the existing water slide but would cost $80,000 a year to lease because, unlike the hydroslides, it would not be practical to charge swimmers to use Aquaplay.
Mr Bennett said most of the cost of the new tower and supporting infrastructure could be met from the $600,000 which the council's pools and stadiums trading company, Bay Leisure and Events Ltd, had already put aside for a new hydroslide.
If the council took the ownership option for the Constrictor, with the offer of a one-year delayed settlement, it would leave about $500,000 to pay next year because of the anticipated annual cash flow surplus generated by the two attractions of $515,000 a year. Mr Bennett predicted that WhiteWater and the council could achieve a win-win by working together to create a $1.9 million "wow" factor for Baywave.
More than 40 Constrictors have been installed around the world and he envisaged charging $10 for an all-day pass to use Baywave's two hydroslides - the old slide would remain.
The council will make a decision next month on Mr Bennett's request for a $50,000 feasibility study into the project.