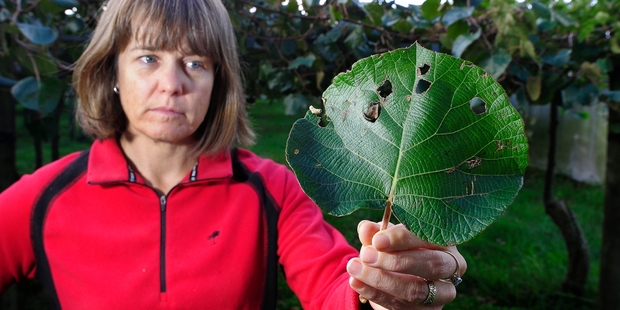 Damage caused by a recent hail strike has written off some kiwifruit crops while others escaped unscathed, according to Trevelyan's Pack and Cool general manager James Trevelyan.
It has 25 grower land lots which had shown 20 to 70 per cent damage after a hail strike at Te Puke on April 17-18.
Mr Trevelyan and his wife Vicki also took a hit and estimate they lost 10 per cent of their G9 crop due to the bad weather.
"It's devastating for growers when you have grown it all year around and are just about to pick."
Some crops were destroyed, he said.
Growers could seek compensation through Zespri's hail policy however the pack house would bear some of the brunt as lines had to be slowed down to find spoilt fruit.
"As a company we lost $1 million just on unrecoverable wages in the last big hail event about five years ago.
It costs everyone."
Detection was difficult and finding damaged fruit was like looking for a needle in a haystack, he said.
"You are only looking for such a small defect in the fruit so when you are only looking for five per cent hail you have to sift through the whole haystack. Once you find the needle it's not as if you have found a thousand needles and each needle is worth a lot of money."
"You pick up every fruit and inevitably that cripples."
It was expensive for those in post harvest, he said.
Kiwifruit would be graded for early shipment and sold.
Apata managing director Stuart Weston said it was a lose/lose situation.
It had only handled a couple of affected crops, he said.
"If there is any expression of hail damage after the kiwifruit has been picked we will pack it really slowly and put it into grade."
That fruit would undergo quality control and test sampling and could be reworked by hand and prioritised for early shipment, he said.
"It hasn't created too much of a headache for us and we have managed to keep it tight and under control."
New Zealand Kiwifruit Growers Inc president Neil Treblico said close to harvest severe hail can bruise fruit and could cause a big issue left undetected.
"The effect of that bruising may not be seen for a while but it actually causes a breakdown of the fruit itself."