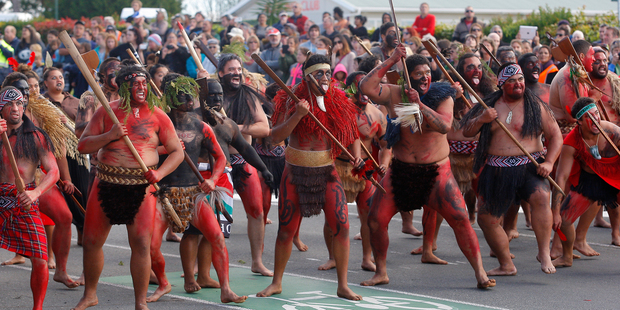 More than 600 Maori warriors swarmed over the historic Gate Pa site to challenge the governor general at yesterday's commemoration powhiri, reconciliation service and ceremony.
At 2pm, warriors from local and central North Island tribes spread over the pa site to meet Governor General Sir Jerry Mateparae and his party.
The scene was like a snapshot of the past, with the warriors wearing traditional costume and carrying replica arms. Many of the men had woollen wraps and there was the odd man sporting a top hat.
The first group marched down the hill on to Cameron Rd, where the governor general and his party waited. The challenge was set and a rousing haka followed, lasting about 20 minutes while Sir Jerry's party marched through the reserve flanked by representatives of the Army and Navy.
While the largest contingent of warriors came from the Tauranga Moana area, there were also large groups from Tainui and Mataatua iwi.
Cultural event co-ordinator Jack Thatcher said more than 600 warriors took part in the powhiri (welcome).
Local iwi leaders Awanui Black and Reweti Te Mete wrote the haka pohiri.
Mr Thatcher said Tainui and Mataatua iwi were invited to take part in the powhiri as Tauranga iwi had performed at commemorations in their areas.
Twenty-four of the elite group involved in the wero (challenge) carried tupara (double-barrelled shotguns).
"It all came together, we've been planning this for a few months and it worked exactly how we planned it."
He estimated a crowd of about 3000 people watched the ceremony.
After the haka, the official powhiri speeches began which were followed by an address by Sir Jerry. He said the ceremonies had brought poignancy to the events of 150 years ago.
"It is a great privilege to take part in today's events ...
"The enduring image of the Battle of Gate Pa is that of the Maori warriors who risked their life to take water to an adversary who was mortally wounded. That showed the compassion of Maori warriors to British wounded and dying."
What does the Battle of Gate Pa and the 150th commemorations mean for you? Email your responses to editor@bayofplentytimes.co.nz with your name and suburb.