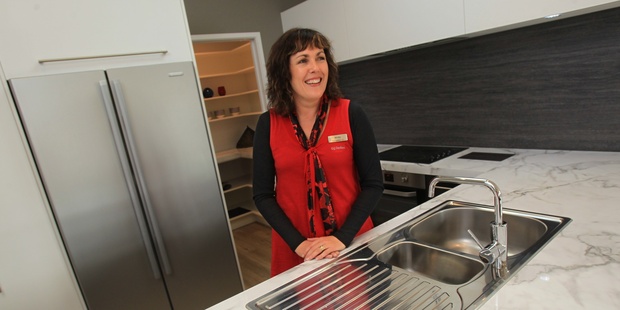 The Tauranga franchise of GJ Gardner Homes this month began marketing the master franchise's new mortgage brokerage, Onion Finance and Insurance Ltd, set up to smooth the way for potential new home-build clients.
"Some banks or brokers traditionally have tended to steer buyers towards buying existing houses or have a greater appetite for that, because there's a little bit less involved in buying existing houses," said Shane McConnell, co-owner with his wife, Kirsty, of the Tauranga GJ Gardner franchise.
"GJ Gardner wanted to create something that was focused on new home construction. There have been a lot of calls to bring more housing stock into the market. It just makes sense to remove as many hurdles and obstacles to achieving that, and this is one way to do it."
New home-builds are typically more complex because they involve valuations based on land plus a fixed price contract from the builder, and can involve four to five progress payments during the build process.
The company claims to be New Zealand's biggest house builder, with 28 franchises around the country, and expects to build nearly 1000 homes in the year to March 2014.
Onion was launched in Auckland last month. GJ Gardner master franchise co-owner Grant Porteous commented that it was often more difficult for buyers to document a construction loan than an existing house loan, even though it was often cheaper to build a new house.
It's an important part of the process to unlock the gateways through to a completed home.

Onion was established by Auckland-based Porteous Fraser Dent Ltd, which is controlled by Mr Porteous and his wife, Ellie, Mike Fraser, who was running GJ Gardner's Rodney franchise, and Brett Dent, formerly of financier Marac. Onion's core shareholders are also common to the master franchisor.
"It's a service we set up to deal with GJ Gardner customers," said Mr Dent, who is managing director of the new brokerage.
"We're essentially a brokerage with good connections to the major banks. Fundamentally, it's all about making it easier for our GJ customers to do business. What we find with a lot of the retail banks is that a customer might go into the retail branch that may be happy to do a loan on an existing house, but there can be a bit of resistance by some of them to do a construction loan."
Mr Dent said that for its Bay of Plenty new house-builds, Onion would be happy to work with local banks, but noted that most major banks operated centralised mortgage arms in Auckland, where Onion had good connections and its product was known. "It tends to make our system more streamlined."
Last October, the Government changed its loan-to-value ratio (LVR) from 20 per cent to 10 per cent for new home-builds and sources said the change was beginning to impact the market.
"It's early days, but certainly the inquiry level is showing that it's had an impact," said Mr Dent. "It's certainly helped the first homeowner market."
Mr McConnell began his career as a lawyer in Hamilton, then moved into housing and focused on property development, before he and his wife bought the Tauranga franchise in 2007. He noted that the house-building market had been very volatile in recent years.
"When they first introduced the 20 per cent LVR, that slowed down demand," he said.
"I don't think the change to 10 per cent has had a significant impact yet. When you do get a slowdown, it takes a long time for the market to follow. We haven't seen a steady increase ... but that's been a hallmark of the construction industry, except in the last boom. I wouldn't say we're in a runaway boom yet ..."
Mr McConnell said in his anecdotal experience, first home buyers could be less confident than those who were more experienced. However, most of GJ Gardner's Bay customers tended to be more experienced buyers who had owned three or more homes.
Mr McConnell believed the brokerage offering would help in GJ Gardner's marketing in Tauranga. "We'll be able to offer a whole solution to take care of the clients through all the elements of the build.
"It's an important part of the process to unlock the gateways through to a completed home."