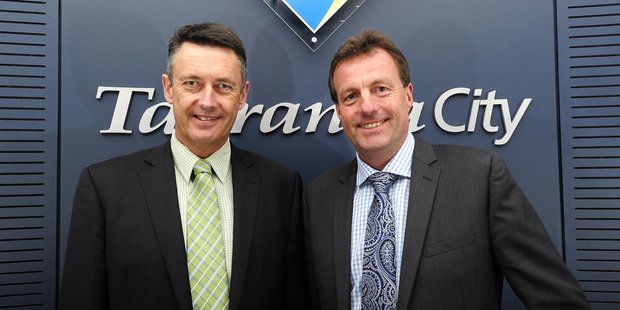 Tauranga Mayor Stuart Crosby has been dealt a blow for bypassing the council and creating an executive officer's job commanding a salary of up to $130,000.
The council has decided by a big majority to stop the employment process for a job that would have provided what Mr Crosby described as "high-level advisory support services" to the mayor and deputy mayor.
The person would have reported to Mr Crosby and Councillor Kelvin Clout, with a salary between $80,000 and $130,000 depending on experience.
It was the second time this week that councillors have rebelled against decisions in which they were left out of the decision-making process.
On Wednesday they flexed their muscles and dumped a staff decision that would have allowed parking wardens to issue $150 fines for cars with dangerously bald tyres, opting instead for friendly notices.
Mr Crosby said he was encouraged by the willingness of councillors to offer more support to his role as mayor and it was indicative of a new culture among this new council to work as a team.
There was an acknowledgment that the current level of one fulltime and one part-time administration positions to support the mayor, deputy mayor, chief executive and councillors would need to be reviewed by the chief executive.
Councillor Rick Curach had no hesitation when approached for comment about the council's decision, which was handled behind closed doors.
"I can confirm that we have instructed the CEO to stop the appointment progress. The council decided there was no need to appoint the person to the position as advertised."
He would not disclose the vote except to say the job was overwhelmingly defeated. "It's dead in the water as far as we are concerned."
Councillors had instead offered to help the mayor with political duties that he did not have the time to undertake.
"The idea was to free him up from day-to-day mayoral duties so he could address the big picture stuff," Mr Curach said.
The decision to axe the job was in the context of the council cutting back in many areas of spending that affected the community.
"To appoint someone to that position would be inconsistent with our cost savings initiatives ... It is about us flexing our muscles," Mr Curach said.
Councillor Clayton Mitchell posted on social networking website Facebook that it had been a good week of outcomes, with the $150 bald tyre infringements being axed, along with the mayoral suite support person.