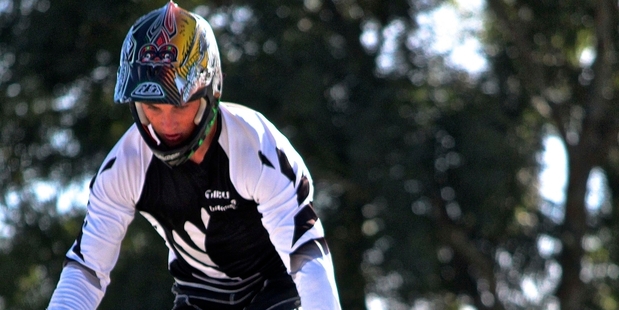 Wet weather dampened the racing but not the spirits at the BMX National Championships in Tauranga this weekend.
BikeNZ High Performance rider Matt Cameron (Taranaki) won the Superclass contest after local favourite Cody Stevens (Tauranga) won the national title in the weather-affected championship.
Taranaki's Victoria Hill proved dominant in the elite women's ranks, unbeaten in all four qualifying races on the way to defending her New Zealand title.
The elite men's field attracted fewer than eight, with the leading riders in Manchester for the UCI Supercross.
The title was decided over three motos, with Stevens grabbing two wins and a second for the overall honours.
"It feels pretty good, a bit of a monkey off my back, a weight off my shoulders - I had a lot of support from Tauranga cheering me on which was good," Stevens said.
"I'm hoping to get over to America again near the end of this year and do some more racing over there, in with the big guys. I'll still be training right through winter, and this is a good starting point," said the young rider who competed as an elite junior in last year's world championships in Auckland.
Cameron and North Harbour's Michael Bias jockeyed for second and third in the first two motos, but Bias dominated the third race to achieve second overall ahead of Cameron.
Cameron, Stevens and Bias also dominated the qualifying rounds in the hotly contested Superclass division before a smoking final.
Cameron and Stevens were neck and neck throughout before the Taranaki rider showed his experience to edge his way to a classy finish. "It was pretty wet out there. I suppose everyone has to ride the same conditions, but I was pretty worried about how slippery the track was, but I pulled through, I guess." said Cameron.
"Cody's improved really well, making leaps and bounds which is good to see, he's got a big future ahead of him."
With just four elite women entered, the women's superclass did not run, and instead of a separate elite race these talented women raced in with the 17-39 challenge classes.
Hill was victorious in the championship race, just ahead of Gedye - a repeat of last year's result for the pair, with North Harbour rider Shannon Alexander in third place.