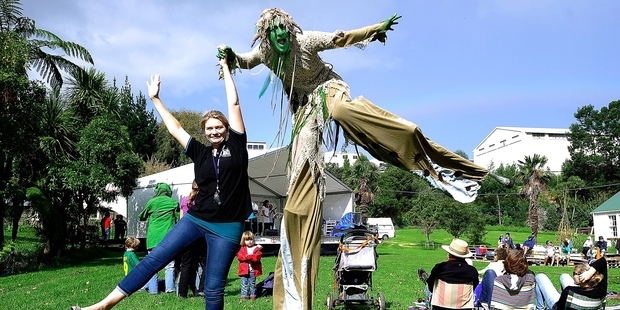 The National Jazz Festival was a hit for all and its organiser is already excited about next year's event.
Tauranga hospitality businesses also benefited from the influx of people to Tauranga, many reporting busier than usual Easter breaks.
Jazz Festival organiser Becks Chambers said the events held throughout the city had attracted good crowds of both locals and visitors to the area. The only downside was having to halt some of the acts for about 45 minutes on Saturday during a heavy period of rain, she said.
"The opening gala on Thursday was awesome. Everyone really enjoyed the concerts and it just got better from there on in. We had a few hairy moments where the heavy rain opened up but generally everyone kept playing and people kept coming."
The Downtown Carnival, held on The Strand on Saturday and Sunday, had crowds of between 15,000 to 20,000 people, Ms Chambers said.
"The crowd at The Strand was just awesome so hands down to them for coming down regardless of the weather."
Two concerts at Baycourt, Miho Wada and Midge Marsden, sold out, and other shows were well attended, Ms Chambers said.
"It seems very relaxed compared to previous years. I haven't received any complaints about anything.
"This year, I've never had so many comments from people asking if they can come back next year. The performers seem to have had a great time. Even the volunteers want to come back again."
The "little quirky venues" at the Jazz Village on Sunday and yesterday were packed, Ms Chambers said. Sunday had about 4000 people. Yesterday's numbers were unavailable.
"We're really pleased with the numbers here at The Village, it was a good volume because we didn't want it jam-packed."
Bravo acting manager Peter Fountain said the cafe was busy all weekend and the music on The Strand had been fabulous.
"The atmosphere was just wonderful and we had both a lot of out-of-towners and local support. There were a lot of queues but people were very understanding and we got through them. It's a testament to the great staff we have."
Elizabeth Cafe and Larder owner Andrew Targett said he had been flat out all weekend.
"It's been huge. Even with the bad weather we had a good turnout on Thursday and Friday. It seems to be on par with last year. I think once people commit to an event and get the tickets, you're going to come regardless."
Robert Harris owner Susanne Irwin said Saturday had been quieter than Easter last year, but Sunday was much busier.
Hospitality New Zealand Bay of Plenty chairman Clayton Mitchell, who owns Mount Mellick and Ivory Boutique and Restaurant and Bar, said because the weather was a bit "iffy" he did not think everyone got the numbers they were expecting, but it seemed everyone still had a good weekend.