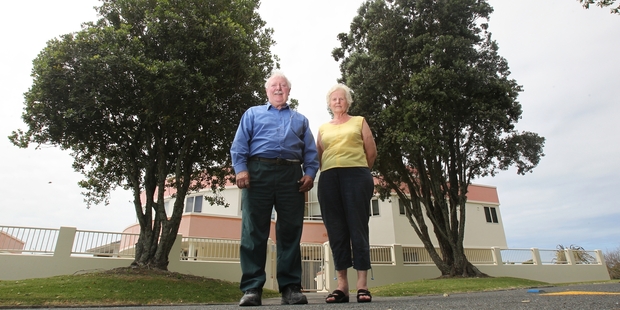 A Tauranga city councillor has accused the council of favouring the wealthy in a decision to allow property developer and former MP Bob Clarkson to remove a pair of pohutukawa trees outside his property.
Mr Clarkson will be allowed to fell two 15m natives outside his Otumoetai home on the condition he replaces them with another variety of tree, elected members decided yesterday.
He requested the trees be removed at a council meeting in February, saying they were "dwarfing" his 9m, two-storey house and branches were hanging over his boundary fence.
For two months a year, little red pebbles showered his property and he had to contend with showers of "little brown dusty hairy things" that blew around causing havoc with his wife's sinuses, he said.
The decision came about five years after Mr Clarkson paid $5500 to have jacaranda trees pulled out and replaced by the pohutakawa trees.
The council had spoken to 33 of Mr Clarkson's neighbours, 23 of whom backed the plan to chop down the pohutakawa trees.
One, Kathryn Lellman spoke against the proposal at yesterday's City Vision committee meeting.
She said the trees mitigated the effect of Mr Clarkson's large house and removing them went against council's tree policy.
Council staff had recommended the trees stay but Cr Clayton Mitchell put a motion to let Mr Clarkson remove them so long as he paid for their removal and replacement.
"I suffer from allergies because of pohutakawa so I understand where Bob is coming from," Cr Mitchell said.
The motion was immediately backed by Cr Bill Grainger and deputy mayor Kelvin Clout, but Cr Steve Morris questioned the move.
"As an elected member not on Bob Clarkson's endorsement list, I would question this decision," he said.
"It is the second time the petitioner [Clarkson] has become allergic to trees when they reach a certain height."
Cr John Robson spoke against the motion saying council's tree policy seemed to "favour the wealthy".
"Are we happy to have this happen because Bob is paying? he asked.
"There are other people out there who do not have Bob's wealth that would like to have trees removed but do we say no to them because they cannot pay?
"Is our tree policy driven by wealth, can people buy the right to void the policy? If so then I am not comfortable with it."
After declaring he was not "on Mr Clarkson's endorsement list", Mayor Stuart Crosby said the situation was not unique, with council historically asking submitters to pay for the removal and replacement of "nuisance trees."
Cr Gail McIntosh quipped that "not all of us on Bob's endorsement list wanted to be there", referring to a pre-election newspaper advertisement paid for by Mr Clarkson that appeared to show some candidates endorsing the opinions of the developer.
Council staff would also investigate cutting back or removing a tree on Elizabeth St after an impassioned plea from local resident Jackie Walsh.
Mrs Walsh spoke at yesterday's meeting to ask the council to consider a large elm tree blocking the view to the water from her apartment.
She said her husband was in a wheelchair and the pair were house-bound and enjoyed watching the water activities on the harbour, but the tree was blocking their view.