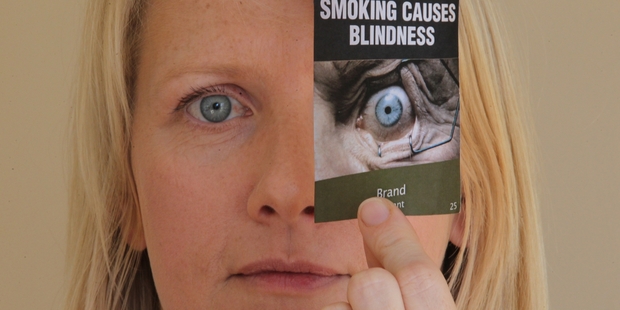 Tauranga submitters to the bill for plain packaging of cigarettes have come out strongly on both sides of the debate.
The Smoke-free Environments (Tobacco Products and Packaging) Amendment Bill had its first reading on February 11. The Government is looking to follow in the footsteps of Australia and require all cigarette brands to package their product with matching olive green labels and bold warning labels.
Submitting in support of the bill was Melanie Desmarais, the health promotion manager of the Waikato Bay of Plenty division of the Cancer Society.
Mrs Desmarais said young people were influenced by the colours and branding of tobacco products so taking away the marketing of the product would help prevent teens from taking up the habit.
She said it was about protecting youngsters.
"I certainly don't want my children growing up the way I did in the '70s where everyone smoked and it was acceptable.
I don't want them thinking smoking is the normal thing to do.
"We've come a long way but I think we still have a long way to go."
Mrs Desmarais said packaging all tobacco products the same way would clearly have an effect on smoking rates otherwise the tobacco companies would not be coming out so strongly against it.
Action on Smoking and Health, or ASH, released its annual smoking survey on Thursday which looked at smoking rates for 14- and 15-year-olds. Results showed teens who smoked daily had decreased in the Bay of Plenty, from 5.4 per cent in 2012 to 4.91 per cent in 2013.
On the other hand, AJ's Lotto and Tobacconist owner Jensen Zeng submitted against the bill as plain packaging meant his staff would be more likely to make mistakes and it could require him to hire another person.
"In my view, plain packaging only increases the difficulty for the retailers to handle the goods to give to the customers. It will not change the customers' habit to have it or not. It will cause a lot of problems if it goes through."
Mr Zeng said feedback from retailers in Australia was that plain packaging had already caused problems.
"It costs more of their time. The packages all look the same in the box so it will take more time to sort out and it will be easier to make mistakes."
Mr Zeng's stance was supported by the New Zealand Association for Convenience stores. Chairman Roger Bull told the Bay of Plenty Times 99 retailers in the Tauranga electorate and 50 retailers in the Bay of Plenty electorate had made submissions to the Health Select Committee against plain packaging, although this could not be confirmed by the paper.
Toi Te Ora Public Health Service also submitted in support of the bill. Chief Medical Officer of Health Dr Jim Miller said smoking was one of the leading causes of preventable death and disease in the country so the bill was "a big deal".
"There are still too many people in our local area that smoke. We know a lot of people are trying to give up smoking and we want to support them in any way around that.
"We really don't want to see our children start smoking."
Dr Miller said plain packaging was just one of a number of measures Toi Te Ora supported aiming towards a smoke free New Zealand by 2025.