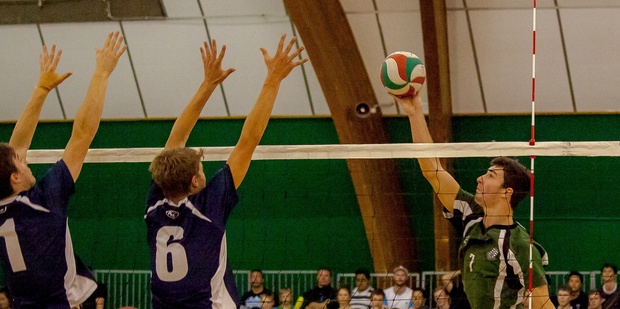 Tauranga Boys' College defended their Boys' Division 1 title at the National School Volleyball Championships in Palmerston North tonight with a clinical three set win over local rivals Otumoetai College.
Tauranga's Burton McAdam and MVP Caleb Aperahama were immensely impressive on both defence and attack, making some key plays to assist their team in a 25-18 first set victory.
The second set followed in the same fashion as Tauranga overpowered their arch-rivals to take the set 25-17 before they upped the ante in the final points to defeat their opponents 25-20 in the third set to win successive titles.
Tauranga coach Jason Spice said they built well over the tournament after "we didn't start too flash, but we came good at the right time. You get a few big game players that turn up on the big matches and you saw what happened".
It was a great week overall for Western Bay schools with six top three placings and the top three boys' teams in the country.
Mt Maunganui took the bronze medal in the same division, beating De La Salle College in straight sets in a memorable result.
Defending champions Otumoetai College were upset in the Girls' Division 1 final by Nelson's Waimea College.
Otumoetai were on top in the first two sets and put in a gutsy performance in the final three. It was down to the wire in the epic five-setter but Otumoetai were unable to retain their title, going down 12-15 in the final set.
Also in Division 1, Mt Maunganui A, Tauranga Girls' A and Otumoetai B finished 4th, 8th and 12th respectively.
In other results, Tauranga Boys' Yellow placed 8th in Boys' Division 3, while Otumoetai College B beat Tauranga Boys' B in the battle for 5th and 6th places.
Otumoetai College Green clinched silver in the Boys' Division 4 final, and Mt Maunganui College B beat Palmerston North Boys' High School to place 7th.
In the Girls' Division 4, Otumoetai College C beat Taita College to obtain third spot and Tauranga Girls' College B grabbed 5th after beating Elim Christian College, with Tauranga Girls' C finishing in 10th place.