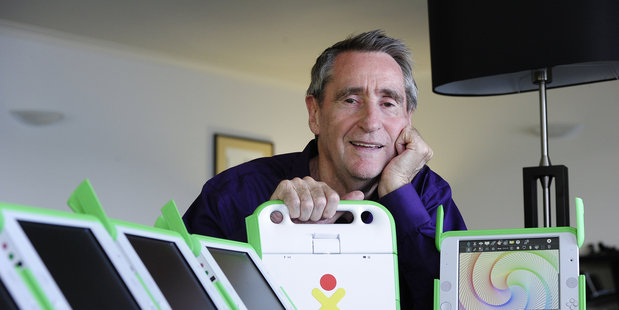 A laptop for every child is the catch cry of an international organisation making inroads in the Bay.
Barry Vercoe, a Tauranga resident, designed the XO laptop with his colleagues at the Massachusetts Institute of Technology for young children in remote areas of the world.
After taking the design to Africa, the South Pacific and the Australian outback in the last decade, Professor Vercoe set up the One Laptop Per Child NZ Charitable Trust and hopes local schools will take up the computers.
The first Western Bay school to sign up for the XO laptops was Pukehina School, which ordered 25 of the machines to cater for each of its pupils.
Professor Vercoe said the laptops were suitable for young children because they could be dropped or left outside and not be damaged.
"Our first targeted communities were African countries, where schools are often held under a tree.
Our laptops work in the sun and in the shade. The laptops are robust, you can drop it or leave it in the rain, kids do that so that's how we built it."
He said many schools were heading in the direction of iPads and tablets but the XO laptop was more engaging.
It included a comprehensive set of educational activities based on constructionist learning principles, or as he put it, "having kids learn to programme and build things.
"Learning is about building, in the mind and in practice, and we're intent on having kids return to active experiences rather than passively push buttons."
Teachers were also trained in using the equipment before schools got the computers.
The price of technology such as iPads was restrictive for a school of Pukehina's small size, Professor Vercoe said, and many schools could only afford enough tablets to share between two or three pupils.
He said one laptop per child meant all the pupils were actively engaging with their learning.
The XO is priced at $350 per laptop and Professor Vercoe said three or four other Bay schools had been looking into funding to get the laptops for their pupils.
The computer also offers a te reo Maori interface.
Pukehina School administrator Judy Ferguson said the school had received a private donation to pay for the computers.
"We couldn't see any other way of having computers for our kids. [Professor Vercoe] is coming in on Monday to train us with the computers and within a month or so we should have them."
More about the XO computer at www.one-education.org.nz