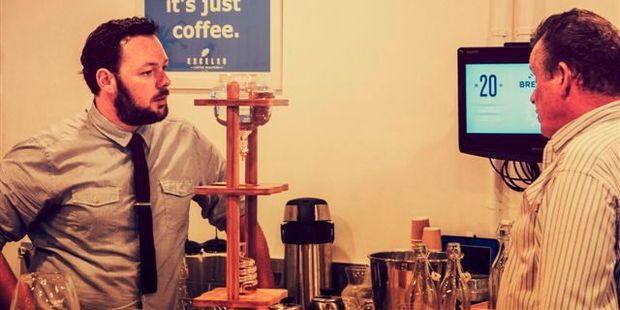 Tauranga barista Charlie Self has always had great tastebuds.
Now the former chef gets to represent New Zealand for the title of best tastebuds in the world.
Wellington may have been named one of the top eight cities in the world for a flat white in a CNN survey in January but it's Tauranga's Mr Self, 32, who is the Huhtamaki NZ Cup Tasters Champion for 2014.
The competition pitted Mr Self against other coffee professionals from around the country to demonstrate speed, skill, and accuracy to distinguish the taste differences in specialty coffees.
The competition was part of the Huhtamaki NZ Barista Championship 2014, held in Wellington over the weekend.
Mr Self, who works at Tauranga's Excelso Coffee, scored seven correct cups of coffee out of a total of eight in little over three minutes.
"It's a bit of a shock to beat people I very much respect. You have people who are professional cup tasters for big coffee companies and have an amazing reputation," Mr Self said. "I'm still gobsmacked."
Mr Self was a judge at last night's barista championships, which selected New Zealand's best coffee-maker to represent the country at the World Barista Championship later this year.
"It is an alchemy. It is an art," he said.
Mr Self used to work as a chef in the United Kingdom before running the cafe at Bethlehem's Palmers Garden Centre. But it wasn't long before he learned the science behind coffee and switched the chef's hat for a barista apron.
"I wanted to be front of the house just have that interaction with the customers more enjoyable then working in a hot kitchen."
Mr Self has now been in Tauranga eight years and runs the Excelso Coffee's soft brew bar and barista training on 3rd Ave.
Mr Self said there was no hard-and-fast rule when it came to the secret of good coffee.
"A good coffee is one that will make you come back for another," he said.
"There are so many variables. What I might really like in a coffee, is not necessarily what someone else will like."
Excelso Coffee is a soft brew bar where coffee is served in a different more delicate way compared with espresso.
Owner Carrie Evans said she was proud of Mr Self's efforts and the benefits from the "cupping" win were huge for him and the business.
"It's about just knowing your trade and knowing your product," Ms Evans said.
"Coffee is so complex ... So knowing that and knowing these finer details can really benefit the business and where you are going."
"We are really proud of Charlie."