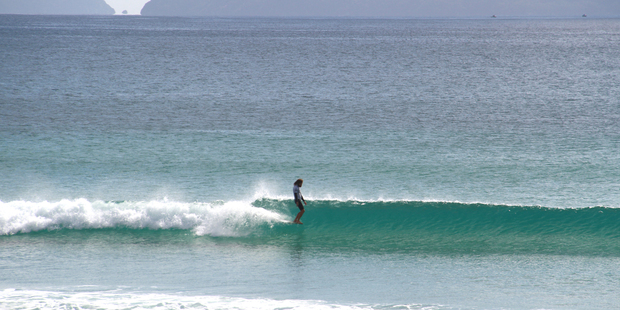 Mount Maunganui beach was the first beach I ever visited in New Zealand.
When my Kiwi partner first brought me on holiday here I thought it was one of the best beaches I had ever been to - and I had been to a lot of great beaches before.
At the time I never dreamed that one day I would be living in paradise.
News that Mount Maunganui Main Beach has been voted one of the top four beaches in the South Pacific by leading international holiday review website TripAdvisor and number one beach in New Zealand should come as no surprise to Bay residents. But when you live here - as I have now for six years - it is easy to become complacent.
We should never take our outstanding scenery and climate for granted, not just because it pays to always be grateful, but because acknowledging our assets makes everyone in the community more inclined to tell the rest of the world about them.
After our story in Thursday's paper, a letter arrived in our offices from Tauranga local Murray Watkins, who drives for one of the local shuttle companies, ferrying tourists between Tauranga and the Auckland Airport.
A resident since 1995, Murray said he already knew how great this area is but he said that on his shuttle he hears visitors laud the scenery, the friendliness of the people, and the great variety of food available.
One lady, a first time visitor from Adelaide, even wanted to take our tap water back home.
Several visitors say they will return and some even consider coming here to retire.
As Murray says, when visitors give these endorsements, and no doubt pass on their positive experiences to others back in their respective countries, that is marketing gold.
So is the result from TripAdvisor which is also an unbiased form of accolades being comprised of millions of holidaymakers' reviews.
The challenge now for Rhys Arrowsmith and his team will be to continue to harness all these positives and strengthen the message out there that we are number one.
We all have a part to play in this.
Being a proud Bay resident, and sharing this with everyone, really will pay.