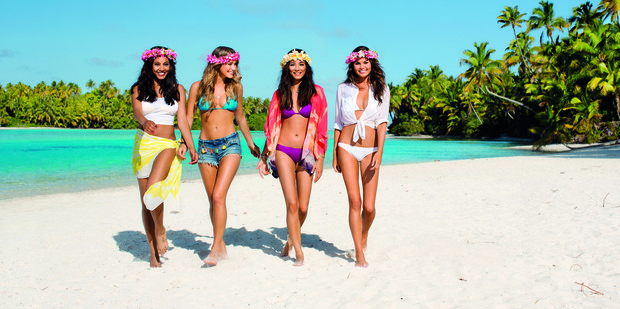 The response to Air New Zealand's new safety video featuring four Sports Illustrated models in bikinis has been mixed.
It got some - possibly the male population - reaching for their oxygen masks, while the feminist camp reached for their sick bags.
The video, Safety in Paradise, is a promotion for the Cook Islands and will play on Air New Zealand domestic and international flights from March.
Previous Air New Zealand videos featuring a range of characters from the All Blacks to Betty White and Richard Simmons have been popular on You Tube for their unique approach to educating travellers on the brace position.
The latest release has also gone viral quickly, but it's the 'perkiness' rather than quirkiness that has created headlines worldwide, such as the UK Daily Mail's "Just plane distracting" and "Hot models give safety tips".
The airline meanwhile defends it as a collaboration with Sports Illustrated's 50th edition and describes it as "the world's most beautiful safety video".
Massey University feminist commentator Deborah Russell caused a stir this week with her comments that the video is sexualised and objectifies women.
"I'm going to be sitting there worrying about the male passengers sitting next to me leering at the beautiful women on the screen," said Dr Russell.
Radio personality Pam Corkery and newsreader Hilary Barry also lashed out against the portrayal of women in the video. Corkery called it "yuck yuck" and Barry said it was "appalling".
Social media means that corporates are given quick feedback from the public.
This week has seen the power of people to take a big corporate to task, with one Tauranga man's Facebook page urging a boycott of Countdown, in response to Countdown's Australian parent company, Woolworths, dropping New Zealand suppliers from some of its own-brand product lines in Australia, in favour of local suppliers.
But while that Facebook protest attracted thousands of supporters quickly, on social media there was little support for the views of Russell, Corkery and Barry. Perhaps other women do not share the so-called feminist outrage. I cannot see on what authority Russell can speak on behalf of all women.
If she feels uncomfortable thinking about the possibility of men leering at bikinis, is she suggesting that women should not wear them? Corkery and Barry are both fine journalists whom I admire greatly, but their moral outrage is curious.
After all, Corkery wanted to start a male brothel in Auckland, and Barry has made her profession in television newsreading, which plays on the newswoman in the front line being glamorous, with her large wardrobe of colourful jackets as important as her ability to tell the story.
For me, there is nothing wrong with using professional models in a corporate video.
The fact they are in bikinis to promote a beach holiday location is entirely appropriate. Yes sexy, but no more so than all entertainment in movies, billboards and magazine covers. Appreciating beautiful women doesn't mean one views them as objects.
The video also features veteran Sports Illustrated model Christie Brinkley, giving hope for 60-year-old women everywhere. There is Kiwi tongue-in-cheek irony in the slow-motion shots. The scantily clad Cook Island men and the pool boy make for equal eye candy for the women. No one is complaining about them, just like no one complained that Dan Carter in his undies was objectifying men.
My only criticism of the models is that they could have included a New Zealand model. Given this week's highlighting of how Australia is moving to protect everything Australian, it would have been appropriate to include New Zealand girls, at least as well as the likes of Australian model Jessica Gomes, ambassador for Australian retail giant David Jones.
Having said that, Air New Zealand is trying to appeal to its current and potential travellers, many of whom will readily recognise the models and as such feel an affinity with the brand.
It is always going to be a challenge to make a dull but important safety message lively while at the same time cementing a brand in the minds of viewers.
All the more difficult if you are a small airline at the bottom of the world. I think the video is harmless fun.
I like it actually.
I would much rather watch it than a boring monologue or a sequin-clad Richard Simmons.